Fissures are small tears in the soft tissue lining your anus, or lower rectum. While they are most common among infants, they may affect adults with Crohn's disease, constipation or prolonged diarrhea, as well as older adults with decreased blood flow and pregnant women, according to the University of Maryland Medical Center. Although fissures typically heal without medical treatment, stool softeners, gentle cleansing, topical ointment and dietary changes may help ease the pain. A healthy diet may also help prevent recurrent fissures.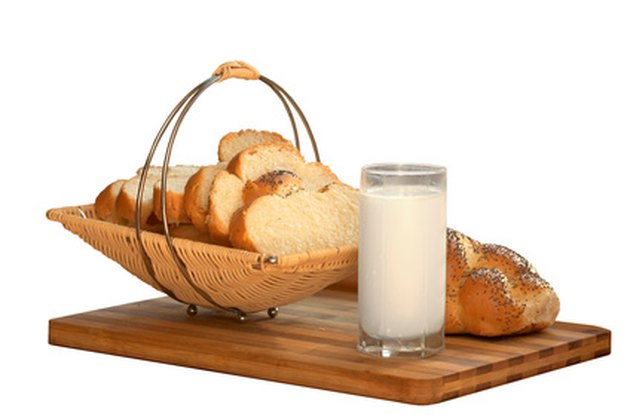 Enriched Flour
Enriched flour is a refined grain product, meaning it derives from a whole grain but is heavily processed. During processing, the grain loses much of its vitamin, mineral and fiber content. Consuming enough fiber, or roughly 25 to 30 g per day, improves fissure healing and maintains stool softness, according to MayoClinic.com. Replacing foods based on enriched flour, such as enriched breads, pasta, cereals and snack foods, with fiber-rich foods, such as whole grains, fruits and vegetables, can help you meet your daily fiber needs, prevent pain associated with passing dense stool and guard against constipation. When purchasing breads, cereals and pasta, examine the ingredients lists to ensure that whole, rather than enriched, grains are listed as main ingredients.
Added Sugars
Added sugars add bulk, flavor and calories, but few nutrients, to assorted foods and beverages. A diet rich in added sugars, particularly high-fat, sugary foods, is often low in fiber. To maintain positive fiber intake, keep foods and beverages rich in added sugars, such as jellies, pancake syrup, sugary cereals, regular soft drinks, sweetened coffee drinks, milk chocolate, ice cream, candy and commercially-prepared cookies, cakes, pies and pastries, to a minimum.
Dairy Products
Dairy products, while valuable sources of protein, calcium and vitamin D, may contribute to fissures in some people. In a study published in the "Journal of Paediatrics and Child Health" in July 2003, researchers analyzed the fissure symptoms and cow's milk intake of 30 children, ages 4 months to 3 years and found that infants and young children with constipation and anal fissures consumed greater amounts of cow's milk compared to children with normal bowel health. Constipation and fissures may stem from lactose intolerance, which is more common among children than adults. Adults who have difficulty digesting dairy products, however, may hold similar risks. If you exhibit signs of lactose intolerance, such as bloating, gas or diarrhea -- which may also lead to fissures -- choose nondairy alternatives such as fortified soy, almond or rice milk.
Fatty Meats
Fatty meats, such as organ meats, sirloin steak, bacon, sausage, lamb and dark-meat poultry, contain no fiber and rich amounts of saturated fat and cholesterol. A meat-rich diet leaves less room for fiber-rich protein sources, such as beans, lentils, nuts, quinoa and split peas, and increases your risk for obesity, type 2 diabetes and heart disease. Fatty foods may also trigger or worsen symptoms of Crohn's disease, according to the University of Maryland Medical Center. If you enjoy meat, choose the leanest cuts most often and use low-fat cooking methods such as baking, broiling and grilling meat atop nonstick cooking spray. You should also incorporate fiber-rich protein sources into your diet as well.