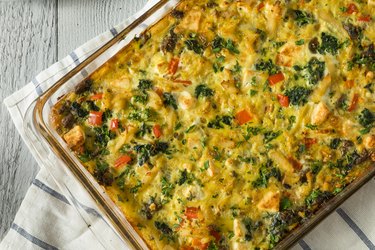 An egg casserole is light and fluffy, with a flavor and texture reminiscent of a well-prepared omelet. Adding meat and vegetables to the casserole complements the eggs and makes the dish more filling with the extra protein and fiber.
If you're short on time, opt for a make-ahead egg casserole. You can prepare the casserole up to two days in advance, cutting out all the work except for placing it in the oven when mealtime is near.
Things You'll Need
8 pasteurized eggs

Mixing bowl

3 cups milk

Whisk

8 cups plain, dried bread cubes

Wooden spoon

1 1/2 cups chopped fresh spinach

12 slices bacon, cooked and crumbled

1 cup shredded sharp cheddar cheese

13-by-9-inch baking pan

Cooking spray

Aluminum foil
Crack the eggs into a mixing bowl and add the milk, using a whisk to blend the two ingredients. When whisking, whip the mixture in quick, circular motions for best results.
Add the bread cubes and stir the mixture with a wooden spoon. Continue stirring until the bread cubes are saturated with the milk and egg mixture.
Stir the spinach, crumbled bacon and half of the shredded cheese into the mixture.
Prepare the baking pan by coating its interior in a thin, even layer of cooking spray.
Pour the egg mixture into the baking pan and top with the remaining shredded cheese.
Cover the baking pan with aluminum foil and refrigerate for up to 48 hours.
Preheat an oven to 350 degrees Fahrenheit when you're ready to cook and serve the casserole.
Remove the aluminum foil from the baking pan and place the casserole into the oven.
Bake for approximately 50 minutes or until the cheese on top puffs up.
This recipe yields 12 servings.
Tip
You can substitute the spinach in this recipe with 1 1/2 cups of your favorite chopped vegetable.
If you're concerned about the fat content of this dish, substitute turkey bacon for pork bacon and low-fat cheese for full-fat cheese.