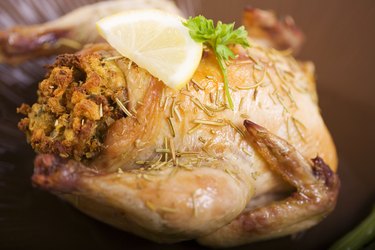 A Cornish game hen, or Poussin, is a young hybrid chicken sold whole at many grocers. Despite its name, Cornish game hens can be either male or female and are domestically raised. The bird consists of all white meat that is more succulent than that from a full-grown chicken. One Cornish game hen constitutes one large serving. It takes approximately 1 1/2 hours to bake two average-sized birds.
Step 1
Preheat the oven to 325 degrees Fahrenheit.
Step 2
Combine the soy sauce, oyster sauce, crushed garlic and black pepper in a large mixing bowl. Stir with a wooden spoon to blend the ingredients. Alternatively, use your favorite Cornish hen seasoning mixture.
Step 3
Place the Cornish hens in the large mixing bowl and flip them over to coat in the seasoning mixture. Leave the Cornish hens to set at room temperature for 15 minutes.
Step 4
Transfer the Cornish hens to a baking dish. Pour the seasoning mixture from the bowl over the top of the hens.
Step 5
Cover the hens with aluminum foil and bake for one hour per pound. For example, if you have two 1-pound birds, bake for one hour.
Step 6
Remove the aluminum foil from the Cornish hens. Place the butter on the top of each Cornish hen. Increase the oven's temperature to 400 degrees Fahrenheit and allow the hens to bake for an additional 25 minutes.
Step 7
Remove the hens from the oven and stick a meat thermometer into their thickest point. Do not let the tip of the thermometer touch bone. If the internal temperature does not register at least 160 degrees Fahrenheit, continue baking for 10-minute increments until it reaches this temperature.
Step 8
Slice and serve the Cornish hens immediately.
Things You'll Need
1/3 cup soy sauce

3 tbsp. oyster sauce

3 tbsp. crushed garlic

1 tsp. ground black pepper

Large mixing bowl

Wooden spoon

Two Cornish hens

Aluminum foil

3 tbsp. butter
Tip
Consume refrigerated leftover Cornish hens within two days.