Brining turkey legs before roasting or grilling helps lock in the moisture and keep the meat juicy. The salt in the brine causes water retention that will not be lost during the heating process. You can use table salt for your brine, but kosher salt is preferable. to prevent illness, do not reuse the brine after you have soaked your turkey legs. Discard it, and clean the pot thoroughly with antibacterial soap.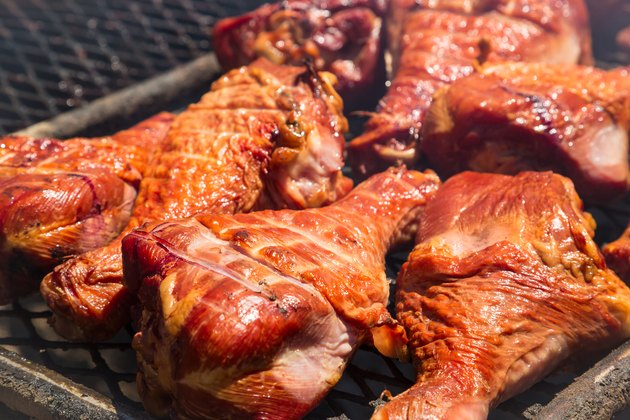 Step 1
Place the water and salt in a large pot, and cook over low heat until the salt is completely dissolved. Allow the salt-water mixture to cool completely.
Step 2
Mix in any extra ingredients you want for your brine. Garlic, clove, brown sugar, molasses, bay leaf and pepper are common components for a turkey brine.
Step 3
Submerge your turkey legs in the brine solution. If they float to the top of the pot, put a bowl or plate on top of them to keep them beneath the surface.
Step 4
Cover your pot tightly with plastic wrap, and place it immediately in your refrigerator.
Step 5
Leave your turkey legs in the brine overnight. At a minimum, they should stay in the solution for four hours, but no longer than 24 hours.
Step 6
Take the pot out of your refrigerator, and remove the turkey legs from the brine. Rinse each leg with clean water. Do this thoroughly, or the meat may taste salty after preparation. Pat the legs dry with paper towels.
Step 7
Season your turkey legs, and cook them using your desired method. Their internal temperature should reach 165 degrees Fahrenheit before you remove them from the heat. Allow the legs to rest for 15 minutes before serving.
Things You'll Need
5 cups water

3/4 cup kosher salt

4 turkey legs

Large pot

Plastic wrap

Paper towels
Warning
Do not add salt to turkey legs before cooking. Since brine contains salt, no extra salt is required.