Cough drops can bring intense relief when you are feeling under the weather. The Halls brand offers several different flavors and varieties to help ease what ails you. While you certainly should not eat cough drops every day, knowing more about their nutrition will help you make an informed decision next time you feel that tickle in your throat.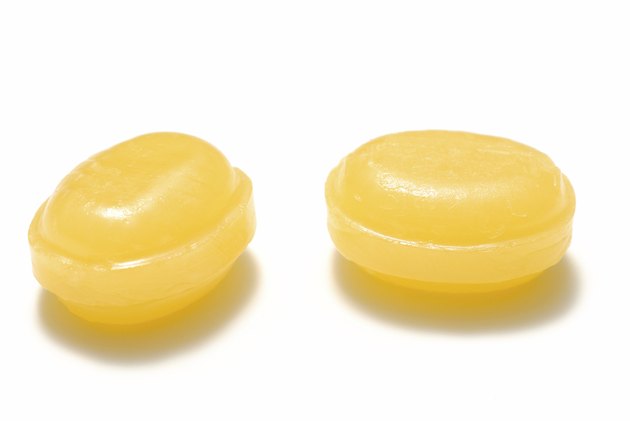 Calories
The Halls brand of cough drops offers several flavors and varieties, both in regular and sugar free. The regular cough drops contain sugar, which increases the calorie content from about 5 to 15 per drop. The calorie content of the Refresh line of drops from Halls is actually considered hard candy and contains 30 calories in a 5-piece serving.
Sugar
The Halls brand offers each of its lines of cough drops in both regular and sugar-free. The Breezers flavors in cool berry, cool creamy strawberry and tropical chill, as well as the Defense flavors in lemon, sweet grapefruit and orange each contain 4 g of sugar per drop. The Naturals flavors in harvest peach, mountain berry, honey lemon chamomile and wild cherry have 3 g per drop. The Plus flavors, in menthol-lyptus, cherry, honey lemon, icy lemon and icy strawberry, each contain 4 g of sugar per drop. If you opt for the sugar-free version of any of these flavors, you will consume 0 g of added sugar.
Vitamin C
While most of the cough drops from the Halls brand contain zero vitamins and minerals, the Defense flavors supply a hefty amount of vitamin C. Each cough drop supplies you with 60 mg of vitamin C. MayoClinic.com notes that taking vitamin C will not prevent a cough, but it may help decrease how long you experience symptoms. Choosing the Defense flavors will help ease your cough, while also supplying your body with the vitamin C it needs for relief.
Recommended Use
You will want to monitor your intake of cough drops throughout the day, particularly if you are sucking on the regular versions that contain added sugar and more calories. It is recommended that you allow one cough drop to dissolve on your tongue at a time. Repeat every two hours as needed for your cough symptoms. The fact that they offer little nutritional value is another reason why you should stick to these limits. Ask a doctor before offering Halls cough drops to children under the age of 5.