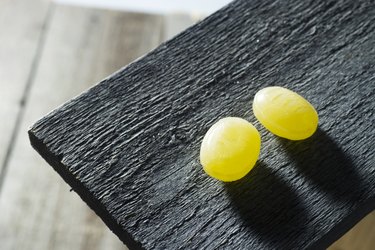 Chief among Halls cough drops ingredients is menthol, a cough suppressant and oral anesthetic. But these cough drops also include a range of other ingredients — particularly sweeteners, artificial coloring, and natural and artificial flavors.
Halls Cough Drops Ingredients
Halls has more than two dozen flavors of cough drops, plus a few "supplement drops" and "throat drops." As you might expect, the ingredients and specific nutritional information vary between flavors, but there are a few things you can expect to pop up in almost every flavor of Halls.
All of the Halls cough drops contain menthol for its cough suppressant and oral anesthetic properties; menthol content varies between 5 and 10 milligrams per cough drop in the "Relief" lineup, depending on which flavor you get.
One notable exception is the Relief line's extra-strong menthol flavor, which has 15 milligrams of menthol. On the flip side of the scale, the "Soothe" line of cough drops has less menthol, typically about 2.5 milligrams per cough drop. Next up, you'll find coloring agents such as FD&C blue 1, FD&C blue 2 and FD&C red 40, which also vary between flavors.
Sweeteners vary between cough drop flavors too. Most of the non-sugar-free cough drops are sweetened with sucrose or glucose syrup, or both, although the "Relief" cherry flavor contains not just glucose syrup and sucrose but the artificial sweetener sucralose.
The sugar-free flavors are typically sweetened with aspartame and acesulfame potassium, also known as acesulfame K. Although all three of these artificial sweeteners have FDA approval, the Center for Science in the Public Interest explains that they're also the subject of prolonged controversy, thanks to animal studies that strongly suggest they can cause cancer.
Other ingredients that sometimes pop up include eucalyptus oil, soy lecithin, potassium citrate, citric acid, acetic acid, beta carotene, isomalt, vaguely described flavoring agents and honey.
Flavors in Halls Cough Drops
Halls offers a range of flavors to choose from. The "Relief" line includes cherry, extra-strong menthol, honey lemon, ice peppermint, methol-lyptus, strawberry and tropical fruit flavors.
You can also choose from sugar-free "Relief" flavors: black cherry, assorted mint, citrus blend, honey berry, honey lemon, mountain menthol and cherry. Other Halls cough drops flavors including honey (with natural and artificial flavors), honey vanilla, honey ginger and honey chamomile — all in the "Soothe" line.
Other choices from Halls include a line of "throat drops" intended to "soothe everyday throat irritations," with pectin as the active ingredient; a small line of cough and sore throat pops for children; and a line of supplement drops. They also sell a paired energy/sleep drop combination, with the day drops containing vitamins C, B6 and B12, while the night drops have vitamin C and 3 milligrams of melatonin.
Calories in Cough Drops
The American Diabetes Association recommends carbohydrate-counting as a strategy for managing food intake and blood sugar for people who have diabetes. If you're on a high-protein diet or trying to lose weight, you might also want to count carbohydrates — although you shouldn't eliminate them from your diet entirely.
In general, there are 10 calories in cough drops from Halls, per single cough drop. The sugar-free line weighs in at 5 calories apiece. Although the Halls label doesn't break down nutrition content by macronutrients (carbohydrate, protein, fat) the way food items would, the cough drops have no discernible sources of fat or protein content.
As noted at Washington State University and a great many other sources, there are 4 calories per gram of carbohydrate. So if you're counting carbs in Halls sugar-free cough drops, you could count each cough group as 1.25 grams of carbohydrate, or count the regular cough drops as 2.5 grams of carbohydrate.
The manufacturer's recommended dosage for adults and kids age five and older is to dissolve one drop in your mouth, repeating every two hours as needed. Ask your doctor before giving Halls to children under five years old — and keep in mind that to some youngsters, cough drops might look like candy.