A long, hot bath is something you may look forward to after a day at work or a stressful situation. Baths are a convenient stress reliever because almost everyone has a bath tub. If you are experiencing sore muscles or aches, a bath may help to relax muscles and make the pain and discomfort more manageable.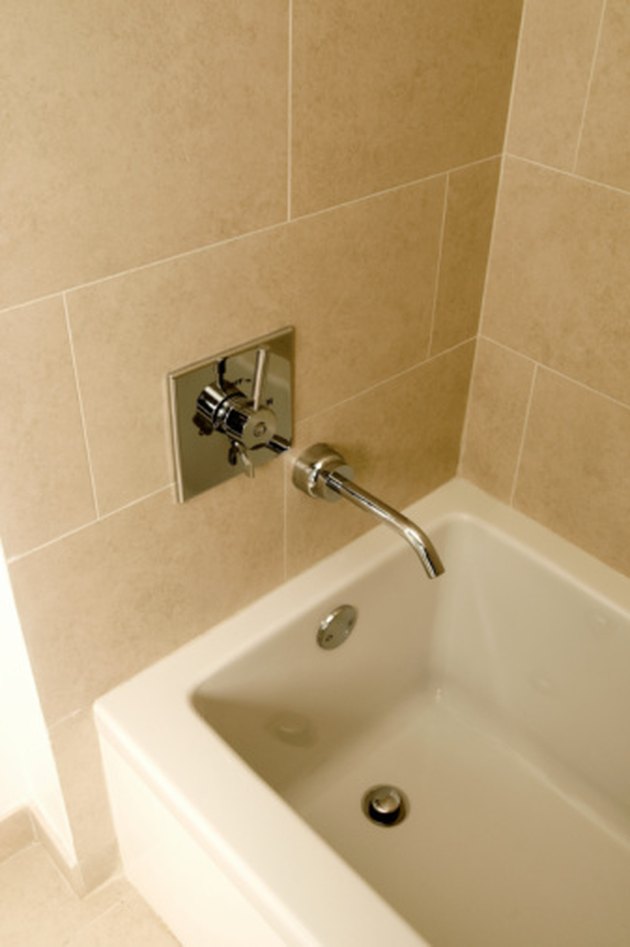 Recommendations
Muscle aches and soreness can be related to stress on muscle or joints or they can be caused by certain medical conditions. Autoimmune conditions such as fibromyalgia and lupus can cause muscle cramping and soreness. A hot bath or hot tub may help relieve symptoms. Rheumatoid arthritis, Parkinson's disease and certain electrolyte imbalances can also lead to muscle soreness. Along with medicinal treatment, a hot bath of around 104 degrees Fahrenheit may curb painful muscle cramps. Injuries to joints can also cause muscle aches and soreness. Your doctor may recommend physical therapy that includes swimming as well as hot tub and sauna use.
Temperature
Not all fitness experts race to jump into a hot bath or hot tub to sore their achy joints. Some experts such as Marty Jaramillo, CEO of the I.C.E. Sports Health Group, recommends taking an ice cold bath in order to numb really sore muscles. Soreness happens when lactic acid and other wastes collect in your muscles through your blood vessels. Cold water temperatures constrict blood vessels as opposed to dilating them to reduce pain. Taking a cold bath can be challenging, but try to use the coldest temperature you can tolerate. You can even add a bag or two of ice into the tub if desired.
Ingredients
In your bathtub, you can add certain ingredients that may also help relax muscles. Consider adding sea salts or Epsom salts to your bath – this will help reduce swelling and calm your central nervous system. You may also want to use essential oils that can help relax you and help sore muscle groups such as eucalyptus, bergamot and lavender.
Benefits
Initially, a cold compress or cold bath will help numb your back and relieve pain. Days after your injury or workout, you may choose a hot bath for your muscle aches; the heat will penetrate and relax muscles, reducing the risk for spasms. A hot bath also reduces stress levels all over your body. You may not realize it but when you have muscle soreness in one area, the surrounding areas may tense up from working harder to compensate for the sore, weak muscle groups. The bath can relax the muscles and prepare them for stretching and your next workout.