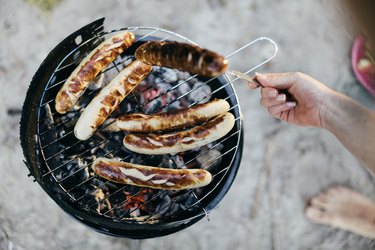 A Kransky, also called a Kranjska klobasa or Carniolan sausage, is a Slovenian sausage that dates back to the 19th century. This tasty sausage is traditionally made of pork seasoned with black pepper and garlic.
How to Cook a Kransky
The Kransky sausage is recognized by the European Commission as a protected agricultural product of Slovenia, advises Slovenia.si, a website that is owned by the Government Communication Office of the Republic of Slovenia. The sausage is slightly smoked but, in most cases, needs to be cooked before you eat it.
There are a variety of ways to cook a Kransky, including boiling, pan-frying and grilling. Make sure to cook the Kransky to at least 160 degrees Fahrenheit, advises the USDA Food Safety and Inspection Service.
Tip
Use a food thermometer to measure the internal temperature of the sausage, advises the Virginia Department of Agriculture and Consumer Services. If you are using a digital thermometer, insert the thermometer about 1/2 inch into the center of the sausage and wait approximately five seconds for a temperature reading.
Dial thermometers are more challenging to use on thin foods such as Kransky sausages, but you can still get a reading by inserting the thermometer into the side or tip of the sausage until it is approximately two inches in. You should get a reading in about 15 seconds.
Serving a Kransky
A 100-gram, or 3.5 ounce, Kransky sausage has 219 calories, according to Gotzinger Smallgoods, a manufacturer of Kransky sausages. Each sausage has 15.4 grams of protein and 17.7 grams of fat. Kransky sausages are high in sodium, containing 1,020 milligrams each.
Some Kransky sausages also have cheese in them. These have 249 calories according to Gotzinger Smallgoods. These sausages have more fat, 20.3 grams, and less protein, 14.9 grams. They also have less sodium with 937 milligrams per 100-gram sausage.
Tip
Kransky is just one type of sausage that you can enjoy. Polish sausage, or kielbasa, is made of cooked pork and beef and then smoked, notes the Auguste Escoffier School of Culinary Arts. Spanish chorizo sausage is made of uncooked pork and seasoned with dried and smoked peppers.
Kransky sausages are typically eaten hot on a white bun with mustard and horseradish, says Slovenia.si. They are also often served with sour turnips or cabbage.
Alternatively, try Kransky sausage in place of the chicken sausage in this LIVESTRONG.com recipe for Sausage, Peppers & Onions:
Sauté six sliced sausages in a large nonstick pan until cooked; remove from pan and set aside.
Using the same pan, sauté one medium chopped onion, three seeded and cored chopped bell peppers and 1 teaspoon of fresh rosemary in 1 tablespoon of extra-virgin olive oil until the vegetables are caramelized; sprinkle with black pepper to taste.
Add 1 tablespoon of flour and cook for three minutes, stirring often.
Stir in 1 cup of tomato sauce, 1 1/4 cups of chicken stock, a pinch or two of red pepper flakes, the sausage slices and four cloves of smashed garlic.
Simmer for 10 to 15 minutes, remove the smashed garlic and serve over brown rice or whole-grain pasta.