Cottage cheese is a very healthy way to sneak in some dairy and protein to your meal. The American Heart Association recommends eating two to three servings of low-fat or no-fat dairy per day. To keep it low-fat and low-calorie, pick the cottage cheese made from 1 percent or nonfat milk. Cottage cheese can take on the taste of savory, like a typical cheese, or can even be paired with something sweet, like fruit.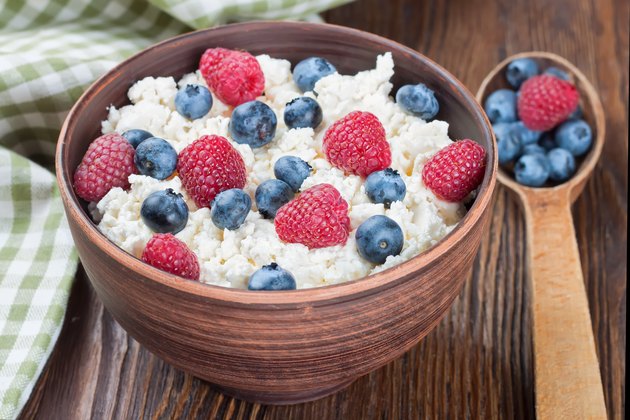 Pair It With Fruit
There's nothing better than a sweet and salty snack. Pairing cottage cheese with fruit hits both of those cravings without too many calories or too much fat. Take some fresh blueberries and sprinkle them on top of a serving of cottage cheese. Or, pair slices from a ripe peach with cottage cheese. Try grilling some pineapple slices and serve those with cottage cheese -- any combination you choose will be delicious.
As A Spread
Cottage cheese also works as a spread. Replace high fat butter or cream cheese with a low-fat or no-fat cottage cheese the next time you make toast. You can also spread it on a bagel. Top the cream cheese with your favorite jam and you have a healthy and hearty breakfast.
With Eggs
Cottage cheese can also take the place of high fat cheeses, like cheddar or American, when making eggs. Don't worry, you won't be sacrificing any flavor. Add cottage cheese to an egg sandwich or use cottage cheese in a breakfast burrito. Scramble one egg and cook it. While it's still in the pan, top it with cottage cheese so it melts slightly. Place it into a whole wheat tortilla and top with salsa for a healthy and delicious meal.
Pancakes
Cottage cheese can also moisten your pancakes. Try this idea from FoodNetwork.com for lemon cottage cheese pancakes. Combine cottage cheese, flour, lemon zest, butter, eggs and sugar in a bowl. Stir until mixed and cook on a griddle. This fluffy pancake is delicious topped with fruit.