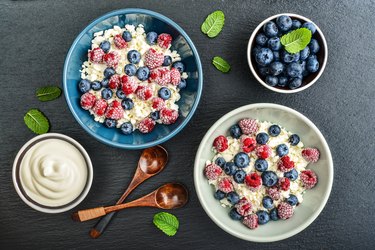 There are so many ways to eat cottage cheese. The spreadable cheese is relatively low in fat and mild in flavor, so cottage cheese snack recipes are both varied and healthy. Combine cottage cheese and fruit for a sweet option, or add spices and other proteins for a savory one.
Cottage Cheese on Toast
According to the USDA, a 4-ounce serving of cottage cheese provides 111 calories, almost 13 grams of protein, almost 5 grams of fat and 7 grams of carbs, including almost 6 grams of sugar. Mineral content includes 174 milligrams of calcium, 334 milligrams of phosphorus, 218 milligrams of potassium and 662 milligrams of sodium.
For a breakfast of cottage cheese on toast, pair a small serving of cottage cheese with a slice of toasted whole grain bread. A slice of multigrain bread provides 69 calories, over 3 grams of protein, over 1 gram of fat and over 11 grams of carbs, including almost 2 grams of fiber and almost 2 grams of sugar.
You can spice up cottage cheese on toast by adding microgreens and tomato, or avocado slices or fresh fruit. It's a versatile pairing that can be made sweet or savory for a filling breakfast or snack on the go. For another satisfying breakfast, try out cottage cheese protein pancakes or cottage cheese and honey on toast for a sweet taste.
One thing to consider when assembling your cottage cheese on toast: sodium content. According to the CDC, adults should aim to eat 2,300 milligrams of sodium per day — but most people consume more than 3,400 milligrams daily.
The majority of this sodium intake comes from processed foods and restaurant meals, but it's worth taking into consideration the sodium content of meals or snacks you make at home, too.
Cottage Cheese Snacks and Meals
Because of the high protein content, cottage cheese snack options can help keep you full for longer rather than counting down the minutes until your next meal. Ways to eat cottage cheese include filling celery sticks with cottage cheese for a crunchy, satisfying snack, or chopping up some vegetables and eating them with a tzatziki-inspired ranch dip made using a mix of cottage cheese and Greek yogurt.
If you're craving something sweet, combine cottage cheese and fruit in a parfait along with crunchy toasted almonds and maybe a drizzle of honey. If you're looking for a snack you can easily consume on the go, blend up cottage cheese and fruit — like frozen mango, raspberries or strawberries — into a tasty smoothie recipe.
One of the less obvious ways to eat cottage cheese: As a substitute for other types of cheese and dairy products. The American Heart Association says you can use cottage cheese or a blend of cottage cheese and nonfat yogurt instead of sour cream, heavy cream and cream cheese.
For example, you could use cottage cheese instead of cream cheese on a whole wheat bagel with smoked salmon, or on nachos rather than using sour cream. Some bread recipes even call for cottage cheese, adding extra protein to the loaf along with a moist texture.