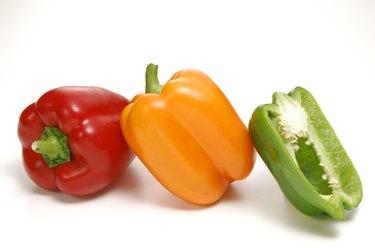 Bell peppers are very high in vitamin C and low in calories. One medium size pepper contains just 25 calories and 190 percent of the daily value of vitamin C. This versatile vegetable can be prepared in many ways, including baked and broiled, and it can also be eaten raw. Broiling bell peppers chars the outside, making it easier to remove the skin and also imparts a savory, roasted, slightly smokey flavor. You can bake bell peppers stuffed with rice, other vegetables or meat for a complete meal.
Broiling
Step 1
Wash your peppers thoroughly under running water to remove any dirt or debris. Dry them with a clean kitchen towel.
Step 2
Cut the peppers in half from the stem to the bottom. Remove the seeds and stem.
Step 3
Place the peppers cut side down onto a pan. You can broil one pepper, or as many as will fit in your pan at a time. Do not overlap the peppers.
Step 4
Place the pan underneath the broiler with the rack positioned approximately 6 inches from the heat. Stay close by because the peppers will cook quickly, usually in 5 to 10 minutes depending on your oven. Your peppers are done when they are evenly browned. The skin will be blistered in spots and you may have some small black areas as well. This is normal.
Step 5
Remove the pan from the oven carefully using an oven mitt or a pot holder. Your roasted peppers are now ready to be added to any recipe you'd like, or can be eaten as is.
Baked
Step 1
Wash your bell peppers thoroughly under running water and dry them with a kitchen towel.
Step 2
Slice a small piece off the end of each pepper so that the bottom is flat and it will stand up.
Step 3
Slice the top off of each pepper and discard the stem and seeds. Use your fingers to clean out the seeds from the pepper. A spoon can help get into the bottom and scoop out leftover seeds if needed.
Step 4
Fill each pepper with your desired mixture. Some recipes call for a mixture of rice, spices, onions, ground beef, sausage and other ingredients. You can stuff the peppers with many different combinations of fillings based on your taste preferences. The pepper creates an edible serving bowl. If you use meat in your filling, it's best to cook it first and then fill the pepper, otherwise you risk undercooking the filling and overcooking the pepper.
Step 5
Place filled peppers into a baking dish. Cover the dish with aluminum foil and bake for 30 to 35 minutes at 350 degrees Fahrenheit.
Things You'll Need
Bell peppers

Knife

Pan

Desired seasonings or fillings