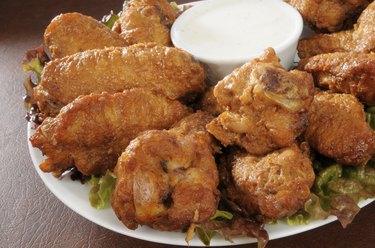 With a combination of white and dark meat, chicken wings make a tasty finger food that is perfect for game night or as a meal starter. Deep-frying seals moisture into the meat and makes quick work of preparing the wings. While you can deep-fry wings without breading and serve them with your favorite sauce, adding a breaded coating doesn't require a lot of time or ingredients, and it makes an appetizing variation that your family and friends will enjoy.
Preparation
Step 1
Set the deep fryer to 375 degrees Fahrenheit, or to the "Poultry" setting.
Step 2
Cut each chicken wing at both joints. This will give you a wing section and a "drumette" section from each wing. It will also give you two dozen wing tips, which you may save to make a broth or discard.
Step 3
Rinse the 48 remaining wing sections under the faucet, and drain them on paper towels to remove excess water.
Bread the Wings
Step 1
Combine the flour and spices in a gallon-size zip-type plastic bag, and shake gently to mix.
Step 2
Add the chicken wing sections, about 10 at a time, to the flour mixture in the bag.
Step 3
Seal the zip lock, and tumble the bag back and forth to coat the wings evenly.
Step 4
Remove the wings from the flour mixture and shake off excess flour. Repeat until all of the wings have a thin flour coating on their outsides.
Step 5
Double-coat the wings, if desired. If you want a thicker breading, dip each flour-coated wing into a cup of milk and place it back into the seasoned flour bag. Repeat the shaking/tumbling process until all of the wings are double coated.
Deep Fry the Wings
Step 1
Place six to eight wing sections into the hot oil of the deep fryer. The wings will immediately begin to sizzle.
Step 2
Cook the wings for 8 to 10 minutes, or until they rise to the surface and are golden in color.
Step 3
Remove them from the fryer with tongs, and let the wings drain and cool slightly on paper towels.
Step 4
Repeat until all of the wings are fried.
Step 5
Keep the cooked wings warm until you finish frying all of them by placing them on a paper towel-lined cookie sheet in a 200-degree Fahrenheit oven, if desired.
Things You'll Need
2 dozen chicken wings

Paper towels

2 cups all-purpose flour

Salt

1 tsp. cayenne pepper

1 tsp. garlic powder

2 tsp. sweet paprika

Gallon-size zip-type plastic bag

Milk, optional

Vegetable oil
Tip
Serve your fried wings with buffalo sauce, blue cheese sauce or your own favorite sauce. Since the wings have a seasoned coating, you can also eat them without any accompanying sauce.
The seasonings in this recipe are fairly spicy; if you prefer a milder taste, reduce the amount of or omit fully the cayenne pepper.
Warning
Cooking partially frozen wings in a deep fryer may result in the excessive splattering of hot oil. Thaw the wings completely before breading and frying them.