Overcooking a roast at high temperatures for a long period of time will yield a dry, tough and stringy roast. As a roast is a generally dry cut of meat to begin with, cooking it without sufficient liquid for too long can leave you with a nearly inedible piece of meat. By thinking fast and using some of the juices from the pan, however, you can revive your dried-out roast to something more presentable in only a few minutes.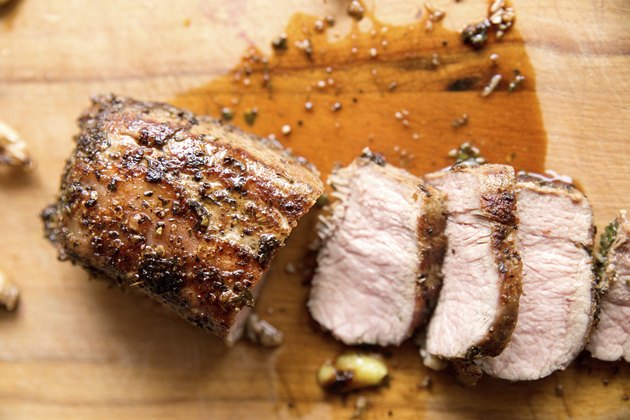 Step 1
Remove the roast from its pan and place it onto a cutting board. Carefully slice the meat as thinly as possible.
Step 2
Arrange the meat slices along the bottom of a casserole dish.
Step 3
Transfer the roast pan drippings to a saucepan and add 2 cups chicken, beef or vegetable stock.
Step 4
Bring the mixture to a boil and remove it from the heat.
Step 5
Pour the drippings and stock over the thinly sliced roast in the casserole dish.
Step 6
Cover the dish with foil and place into an oven heated to 250 to 300 degrees Fahrenheit for five to 10 minutes.
Step 7
Taste the meat to ensure that it is more juicy and tender before serving; otherwise, allow the meat to sit in the juice for a few more minutes.
Things You'll Need
Cutting board

Pan drippings

Casserole dish

Stock

Foil