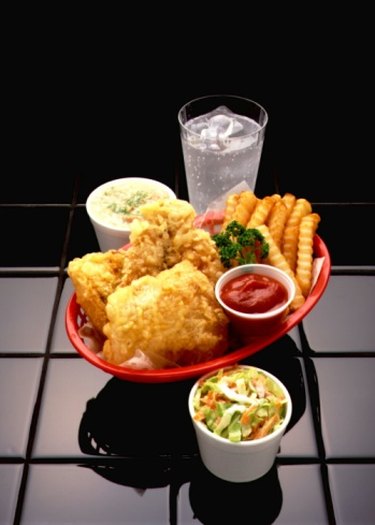 Use a batter-coated cod for fish and chips with coleslaw or a breaded version served with lemon wedges. Either way, cod contains high amounts of omega-3 fatty acids and is a healthy choice for dinner when you pan-fry it instead of using a deep fryer.
Breaded
Step 1
Dredge the cod fillets first in flour, then in the egg and finally in the bread crumbs. Pat the bread crumbs into the fish so they stick and completely coat it on all sides. Set each piece aside on a wire cooling rack as you go.
Step 2
Heat the oil over medium-high heat in a pan large enough to hold all the fish without crowding. If your pan is not big enough, fry the fish in two batches. Place fish from the first batch of cooking in a 200-degree oven to keep warm while you finish cooking the remainder of the fish.
Step 3
Cook the fillets 5 to 10 minutes on each side, depending on their thickness. Lift one corner of the fish after five minutes to see if it has reached a golden brown color.
Battered
Step 1
Heat 1 inch of cooking oil in a large frying pan over medium-high heat. Use a 10- to 12-inch pan with deep sides.
Step 2
Combine 1 cup of flour with the baking powder, salt, pepper, egg, and liquid. Mix the batter until it is just combined -- it's fine to have some lumps in the batter.
Step 3
Dredge each fillet in the remaining flour. Then dip the fillet into the batter, letting any excess drip off. Place each fillet directly into the pan after dredging.
Step 4
Cook the fillets for 2 to 3 minutes on each side. Turn each fillet once so each side gets golden brown.
Step 5
Cook the fillets in batches if the pan is too crowded. Drain each fillet on paper towels as it is cooked.
Things You'll Need
3 oz. cod per person, skinned

Sharp knife

Large frying pan

2 to 3 tbsp. oil

Dried bread crumbs

Plate

1 egg, beaten lightly

Bowl

½ cup flour mixed with 1 tsp. each salt and pepper

Wire cooling rack

Spatula

2 cups flour

1 tsp. baking powder

1 tsp. salt and pepper

1 egg

¾ cup beer, sparkling water or plain water

Paper towels

Oven
Tip
Serve breaded fillets with a garnish of your choice. Choose simple and traditional garnishes such as lemon wedges and chopped parsley or more elaborate garnishes such as salsa or orange-ginger sauce.
Pan-frying cod without any kind of batter or breading offers another cooking alternative.
Check the Monterey Bay Aquarium's Seafood Watch recommendations for updates on which cod species are sustainably fished and which are species to avoid due to overfishing (see Resources).