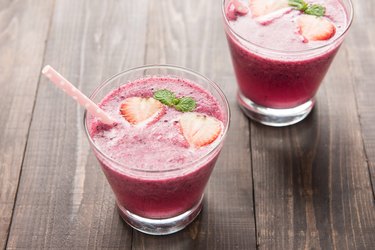 Having an infection in your appendix, known as appendicitis, doesn't always require surgery. If your appendicitis is mild, your physician might give you antibiotics and tell you to follow a liquid or soft-foods diet. Even if your symptoms progress and you undergo surgery, which is an appendectomy, you'll likely have the same dietary requirements -- liquid or soft foods. These diets are low in fiber and easy for your body to digest. Follow your doctor's instructions carefully. Normally you can get back to your regular diet within a week or two, or as tolerated.
Full-Liquid Diet
If you're feeling nauseated or have severe pain, the thought of eating solid foods probably doesn't appeal to you. But you still need to get some nutrients into your system to help you heal. A full-liquid diet allows you to consume just about anything you want in liquid form, or foods that would be liquid at room temperature. Drink any kind of beverages: milk, juice, water or diet soda. You can typically have coffee or tea, but the caffeine might keep you awake, and you need your rest. Consider drinking nutritional shakes or liquid supplements -- either premade or homemade smoothies -- to sneak in more vitamins, minerals and even protein. Also enjoy ice cream, frozen yogurt, gelatin, frozen pops, pudding, custard or strained soups.
Soft-Foods Diet
Usually you can move up to the soft-foods diet after you've been on a full-liquid diet for a few days with no complications. This type of diet allows you to gradually start adding fibrous foods back into your system. In addition to everything allowed in the full-liquid diet, you can also add in cheese or yogurt. You can have small portions of lean proteins, such as poultry, seafood, eggs and fish. Enjoy fruits and vegetables without skins sparingly. Things like mashed potatoes, canned fruits, applesauce, avocados and tomato products are generally well-tolerated. Have white bread, cereal, biscuits, pancakes, crackers or waffles, too. However, avoid whole-grain varieties at this time to keep your fiber intake down and allow your digestive tract to heal.
When to Get More Fiber
If you're on pain medications to manage your appendicitis, you can quickly become constipated. Your doctor may recommend eating certain easy-to-digest foods to up your fiber intake slightly. Add berries to smoothies, have a baked potato with the skin on or make a batch of beans -- soak them overnight to remove some of the carbohydrates that make you gassy. While you're healing, gradually work your way up to getting 100 percent of the daily value of fiber: 25 grams a day. Nutrition facts labels on packaged foods should clearly list the fiber grams for you.
Final Considerations
After your phases of consuming only liquids and soft foods, start adding other foods you like back into your diet, but not until your doctor advises you to do so. Don't dive right back into your old ways as soon as you get the green light -- you don't want to make yourself sick. Start with just a typical breakfast or lunch for a few days. Then as long as you don't have any side effects, start adding back your snacks. Whether you're recovering from appendicitis with or without surgery, you shouldn't have any longstanding dietary restrictions.