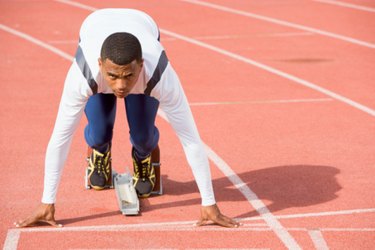 Deciding what to wear in cold weather conditions doesn't have to be confusing. Staying comfortable, visible and warm are all important elements to consider when getting dressed for an outdoor run in 40-degree weather. Dressing appropriately for the weather allows you to feel comfortable without becoming dizzy or overheated during your run.
Layer
Jenny Hadfield, coauthor of "Running for Mortals" and "Marathoning for Mortals," says that layering is essential to avoid under- or overdressing for your run. Staying dry is essential when running in cold weather. Wear a water-resistant top layer that acts as a wind barrier, such as a light jacket, along with pants and a shirt that wicks perspiration away from your body. Depending on the wind chill, you may need to wear an additional layer between the jacket and bottom layer for insulation. A vest is another layering option that is water-resistant, keeps your core warm and blocks the wind. As you heat up, you can unzip or remove layers during your run.
Avoid Overdressing
It's easy to overdress when running in 40-degree weather. Keep in mind that your body temperature rises as you run and overdressing increases your risk of overheating and sweating excessively. Hadfield recommends dressing for a temperature that is 15 to 20 degrees warmer than the temperature outside. You should feel slightly cold when you walk outside since you'll heat up once you get moving. Remove a layer if you step outside and feel too warm or hot.
Bright Clothing
Wearing bright or reflective clothing is important any time you run, but it's essential when running in overcast or snowy weather. Since overcast weather can darken the sky, bright clothes will ensure you're seen by other runners, bicyclists and drivers. Reflective clothing also is essential if you run during the evening.
Accessories
Accessories, such as hats and gloves, are additional layers that can be removed as you heat up; include these items in your cold-weather running wardrobe. A baseball cap or beanie with a visor helps keep the sun, snow and rain out of your eyes as you run. If the weather is 40 degrees and sunny, consider wearing a hat in a light color to help your head stay cool. Gloves keep your hands warm in 40-degree weather and can easily be tucked into your pants if you decide to remove them during your run.