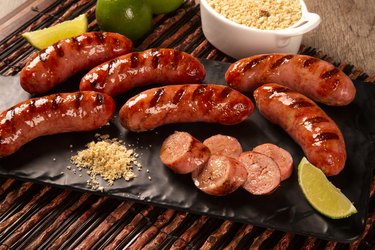 Similar to hot dogs in shape and size, sausages are often more flavorful and hearty than a simple dog. They come either cooked or raw, and both can be cooked successfully on an outdoor grill, according to the book ​How to Grill​.
Beef, pork and chicken sausage, or a combination, all cook in a similar manner on a gas grill. The right technique will produce juicy sausages full of flavor.
Things You'll Need
1 lb. raw beef, pork or chicken sausage

Stick pin

Large saucepan

3 cups beer

1 cup water

2 white onions

4 cloves garlic

Salt and pepper

Plate

Tongs
Grilling Instructions for Sausages
Preheat your gas grill to medium-high.
Prick each sausage several times with a stick pin, making sure to go completely through the casing. This will prevent the sausages from splitting or exploding while grilling.
Place beer, water, onion, garlic and a sprinkle of salt and pepper in a large saucepan. Add sausages.
Heat the pot over medium-high heat until the liquid just begins to boil.
Reduce heat and poach the sausages for 4 to 5 minutes.
Remove sausages to a plate with a pair of tongs.
Place the sausages on the preheated gas grill.
Allow the sausages to grill for 4 to 6 minutes on each side or until the casing is evenly browned.
Remove the sausages from the grill.
Place on a serving platter and allow to rest for 3 minutes before serving.
Tips for Grilling Sausages
You do not need to poach precooked sausages. Reduce the cook time by half if your sausages are precooked.
If you choose not to poach your sausages ahead of time, cook them for 7 to 10 minutes on each side to ensure that they are fully cooked.
Add dried herbs to the poaching liquid to create new tastes. Try sage, rosemary or basil.
Serve your sausages with condiments like mustard, raw onions, sauerkraut, chopped tomatoes or pickles.
Slice your grilled sausage and add to a pasta salad or toss with grilled vegetables for a tasty meal.
Grilling Health and Safety Precautions
If the dripping grease from the sausages causes flame flare-ups, move them to the opposite side of the grill to continue cooking.
Don't use the same tongs to handle raw sausages and cooked sausages. If you do, make sure to wash them thoroughly with hot water and soap to kill any bacteria that can cause food-borne illness.
Sausages usually contain high amounts of fat. Try eating vegetable or soy-based sausages or select lean meat sausage made from chicken or turkey.