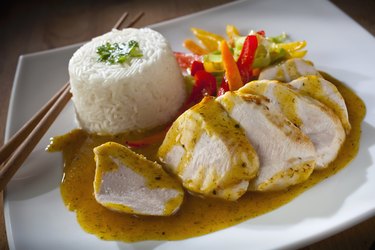 Lemon pepper is a well-known seasoning that home cooks can apply to everything from chicken to fish. Lemon pepper seasoning is widely used because its sweet lemon flavor is the perfect foil for the zing of the pepper. Those same flavors work well when enjoyed in a zesty, tangy lemon pepper sauce. Lemon pepper sauce complements chicken, fish or even pasta, and requires little preparation to make. Your family and guests will love its sweet yet savory flavor.
Step 1
Combine the whole wheat flour, cornstarch, lemon juice and lemon zest in the saucepan.
Step 2
Whisk in the vegetable stock and milk gradually. Whisk until the sauce is smooth.
Step 3
Heat the sauce over medium heat, whisking continually until the sauce has reduced and is the consistency of gravy.
Step 4
Add the freshly ground pepper to taste and serve the sauce hot over meat or pasta.
Things You'll Need
1 tbsp. whole wheat flour

1 tbsp. cornstarch

1/4 cup lemon juice

1 tbsp. lemon zest

1/4 cup vegetable stock

1/4 cup skim milk or nonfat soy milk

Saucepan

Wire whisk

Freshly ground pepper to taste