Stew beef is a tough type of meat that really isn't a "type" at all, but more a collection of leftover pieces from other cuts. The nature of the beef usually requires a longer cooking process to break down the tough tissues and make it tender. Beef stew meat is typically cut into small pieces and added to standard stews and other dishes. You can cook stewing beef a few ways.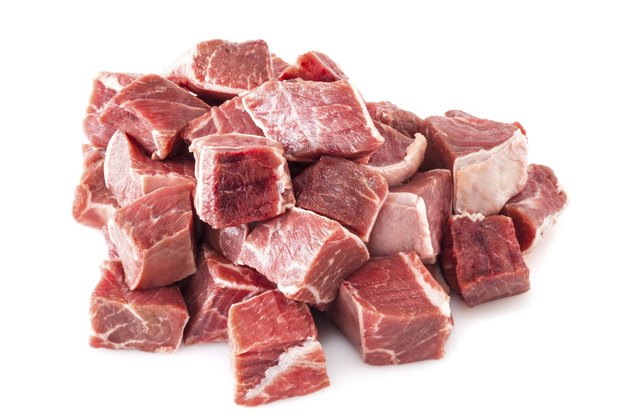 Step 1
Trim any excess fat or connective tissue off the pieces of beef with a sharp knife. Cut the beef into smaller pieces if you find them too big for your liking.
Step 2
Preheat a pot on your stove-top over medium-high heat and add 1 tbsp. of olive or vegetable oil. Add your stewing beef and cook for two to three minutes to sear the outside and seal in juices. Stir the beef to ensure all sides are cooked.
Step 3
Add extra ingredients such as onion, garlic, carrots, celery, bay leaves, thyme and beef stock and bring to a boil. Reduce the heat to low and cover the pot. Let it cook for two hours to form a stew.
Step 4
Preheat your oven to 350 degrees F. Add raw stewing beef to a casserole dish with canned tomatoes, onion, peppers and paprika to make goulash. Cook in the oven for two hours.
Step 5
Add raw stewing beef to a slow cooker along with the ingredients for beef stew, goulash or beef curry. Stir everything and turn the cooker to low and let it cook for 10 to 12 hours.
Things You'll Need
Knife

Pot

1 tbsp. oil

Onion

Garlic

Carrots

Celery

Bay leaves

Thyme

Beef stock

Canned tomatoes

Bell peppers

Paprika