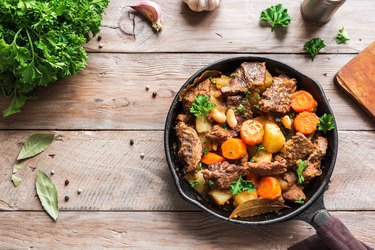 Beef stew is one of those comfort foods you crave on those crisp days when the smell of snow is in the air. Because of the connective tissue and tight muscle fibers, however, cooking stew meat requires time. But it's worth every minute.
Tip
Stewing refers to a cooking method used to help tenderize tough cuts of meat to make comfort foods like beef stew. In addition to stewing, you can also use stew meat to make shish kebabs or grind the meat for hamburgers.
Your Stew Meat
According to the culinary experts Bridget Lancaster and Jack Bishop during an interview with the National Public Radio, chuck-eye roast is the preferred cut for making stew because when cooked correctly the meat becomes fall-apart tender.
Cooking Stew Meat
Beef stew is probably the first meat that comes to mind when you see a package of stew meat at the butcher shop. This method for cooking stew meat creates the tender, comfort food you crave.
A classic stove-top beef stew recipe creates flavor from a few simple ingredients, including meat, onions, carrots, celery, potatoes and beef stock. Browning the meat in oil over medium heat first helps develop the meaty flavor, while a roux — equal parts fat and flour — thickens the broth to make it more like gravy. Other recipes may include more seasonings, such as oregano or even a little hot sauce for some heat.
If you don't want to heat up your kitchen, or you don't have hours to spare cooking stew meat, try the LIVESTRONG.com recipe for Slow Cooker Beef Stew. This make-ahead recipe using beef stew meat includes instructions on how to prepare and freeze your stew ingredients until you're ready to cook.
Considering the Nutrition
Boneless chuck may be a preferred stew meat because of its connective tissue, but compared to other cuts of beef you may choose for recipes using beef stew meat, the boneless chuck makes a healthier choice, too.
Going with boneless chuck for cooking stew meat saves you fat and calories, although both cuts contain saturated fat. According to the American Heart Association, too much saturated fat may raise blood cholesterol levels and risk of heart disease. For heart health, the AHA recommends limiting your intake of saturated fat to 5 to 6 percent of total calories. On a 2000-calorie diet that's equal to 11 to 13 grams of saturated fat a day.