Broccoli is a cruciferous vegetable high in vitamin C, vitamin A and a compound called sulforaphane that may protect you against cancer, according to Oregon State University. The vegetable is delicious and easy to prepare in its fresh state, but it might not be available in your supermarket at certain times of the year. Frozen broccoli is easy to work with, inexpensive and plentiful. Add frozen broccoli to a stir fry or pasta dish for a delicious and nutritious meal.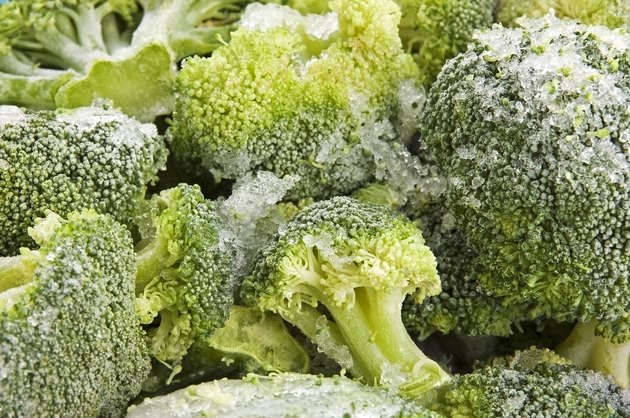 Boiling
Step 1
Pour water into a saucepan large enough to accommodate the broccoli. Ice crystals stuck to the frozen vegetables provides some moisture, so only a small of water is needed. Use 1/4 cup water for each cup of broccoli. Add a pinch of salt.
Step 2
Heat the salted water to a rolling boil before adding the frozen broccoli to the pot.
Step 3
Cover the pot and allow the water to return to a boil. Turn the heat down, if needed, to avoid water bubbling over the cooking pot.
Step 4
Cook the broccoli for five to eight minutes after the water returns to a boil. Test for tenderness with a fork; the fork's tines should enter the broccoli without resistance.
Step 5
Drain the cooked broccoli into a colander.
Step 6
Season the vegetables with garlic, herbs or a sprinkle of Parmesan cheese before serving.
Pan-Frying
Step 1
Defrost frozen broccoli in the refrigerator just until you can separate the florets from one another. Partial defrosting may take an hour or less, depending on the size of the package.
Step 2
Spray a heavy frying pan with cooking spray or heat 1 tbsp. olive oil over medium heat.
Step 3
Add the partially defrosted broccoli to the frying pan, spreading out the vegetables into a single layer.
Step 5
Cook the broccoli for about 10 minutes. Stir the vegetables once or twice to ensure even cooking.
Step 6
Add the seasonings during the last few minutes of pan frying.
Baking
Step 1
Defrost the broccoli enough to separate the pieces from one another.
Step 2
Spray a baking dish with cooking spray and preheat the oven to 350 degrees Fahrenheit.
Step 3
Season the frozen broccoli before baking it in the oven.
Step 4
Cover the dish and bake it at 350 degrees for 40 to 45 minutes.
Things You'll Need
Measuring cup

Saucepan

Salt

Fork

Colander

Cooking spray

Olive oil

Frying pan

Spoon

Baking dish

Seasonings