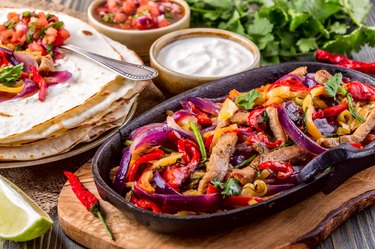 Traditional fajita meat is marinated skirt steak, but you can make fajitas with chicken, fish, shrimp and even tofu.
Luckily, it's pretty simple to cook fajita meat on the stove in a skillet. When you're using a meat like chicken or steak, cutting it into thin strips helps it cook through very quickly.
The best way to cook seasoned fajita meat is to let it marinate overnight to make it more tender and flavorful.
Fajitas: A Nutritious Choice
Filled with veggies, lean protein and spices, fajitas are low in calories, fat and sodium, and they make a nutritious meal option, especially when prepared at home. Typically, stovetop fajitas are made with beef or chicken and flavored with chili, cumin, garlic and other spices.
The fajita meat is cooked in a hot skillet and typically served with sauteed peppers and onions, tortillas, guacamole, shredded cheese and sour cream.
To improve the nutrition of stovetop fajitas, serve your dish with corn tortillas instead of flour tortillas. Corn tortillas are made from the whole corn kernel and are considered a whole grain, while wheat tortillas are typically made from refined white flour. The USDA recommends getting half your daily grains from whole-grain sources because they're a better source of fiber.
Chicken vs. Steak Fajitas
When you want to cook fajita meat to make a delicious dinner, the type of protein you use depends on your personal taste and health preferences.
If you prefer beef fajitas, the most common cuts used include flank steak, skirt steak, top round or top sirloin steak, according to Texas A & M University. Chicken is also a great choice for fajita meat. It's lower in calories, total fat and saturated fat than beef. Whichever option you choose, you're getting a good source of protein.
How to Cook Fajita Meat on the Stove in a Skillet
Things You'll Need
1 pound fajita meat of choice, such as steak, chicken, fish or shrimp

2 tablespoons olive oil

2 cloves minced garlic

1/2 onion, sliced

1/2 red pepper, sliced

1/2 green pepper, sliced

1/2 yellow pepper, sliced

1/4 teaspoon cumin

1/4 teaspoon chili powder

Red pepper flakes, to taste (optional)

Salt and pepper, to taste

A squeeze of lime juice

Sealable bag

Frying pan

Wooden spoon or spatula
1. Marinate Your Fajita Meat
While it's not mandatory, you can get the most flavor from your stovetop fajita meat if you marinate it first. To do it, combine 1 tablespoon olive oil, your cumin, chili powder, salt, pepper, minced garlic, red pepper flakes and fresh lime juice.
Then, cut the chicken or steak into 1/4-inch strips and place in a sealable bag. Pour in the marinade over your chicken or steak, close the bag, massage the marinade into the meat and refrigerate for up to six hours.
After the meat has absorbed the flavor from your marinade, preheat a skillet over medium-high heat on your stove and add 1 tablespoon of olive oil. Then, sauté the sliced onions and your sliced green, red and yellow peppers until tender, about 3 to 5 minutes, and remove from the pan.
3. Drain the Fajita Meat and Cook
Drain the marinade and gently add your meat to your skillet. Let the fajita meat cook for seven to 10 minutes, stirring and turning the meat constantly until it's no longer pink.
Use a meat thermometer to check for doneness. Beef and pork are done at 145 degrees Fahrenheit, and chicken is done at 165 F, per the USDA. Fish is done when it is 145 F, and it should appear opaque all the way through and flake easily.
4. Add the Veggies Back Into the Pan
Return your veggies to the pan to reheat and combine the flavors.
Once the meat if fully cooked and the veggies have been added, allow the cooked fajita meat and veggies to cool. Serve with warm corn tortillas, your own homemade guacamole and salsa.
Tip
Use leftover fajita meat to add protein to a salad.
Warning
Never let anything used to handle raw meat come into contact with cooked meat.