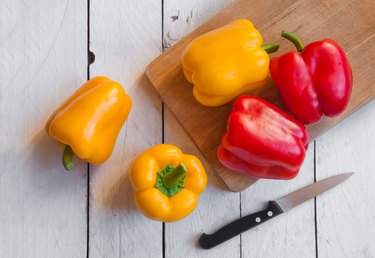 Looking for new recipes to improve and diversify your diet? Try stuffed bell peppers or roasted peppers and onions. Rich in fiber, potassium and vitamin C, these veggies are just as healthy as they are delicious.
Tip
The easiest way to cook sliced bell peppers in the oven is to place them on a baking sheet lined with aluminum foil. Add other veggies and spices if desired, heat the broiler to high and cook for about 12 minutes, then discard the peels.
How to Bake Bell Peppers
A cup of sliced green bell peppers has only 18 calories and delivers more than 80 percent of the daily recommended vitamin C intake. It's also a good source of magnesium, potassium, vitamin A, vitamin E and vitamin K. Sweet red bell peppers are even more nutritious, offering 131 percent of the daily recommended allowance of vitamin C per cup.
There are countless ways to use these veggies in your recipes. You can bake them, grill them, fill them with ground meat and rice or toss them in salads and stir-fries. They also make a healthy addition to soups, stews, casseroles and everything in between.
Cooking peppers in the oven couldn't be easier. Start with a basic recipe and improvise along the way.
Cook's Illustrated, for example, states that roasting bell peppers the classic way (placing a whole pepper on a baking sheet and cooking at 450 degrees Fahrenheit for about 45 minutes) doesn't work very well. Their flesh will become mushy, not soft. Additionally, you'll find it difficult to remove the skin and seeds.
To avoid these issues, cut the peppers into long, flat strips and remove their seeds, cores and ribs. Spread them onto a baking sheet lined with aluminum foil. Use cooking oil to grease the foil beforehand. Heat the broiler to high. Next, place the baking sheet about 5 inches from the broiler and cook for 12 minutes or so, advises Cook's Illustrated. This way, the peppers will be perfectly browned.
As Cook's Illustrated points out, slicing the peppers and broiling them yields a sweet, smoky texture. On top of that, they will be easier to peel. Feel free to add garlic, onions, cherry tomatoes and other veggies for extra flavor and nutrition.
Another option is to slow-roast bell peppers in the oven. This method enhances their natural sweetness and yields a velvety texture, according to Fine Cooking.
All you need to do is to put them on a baking sheet and roast them in the oven at 400 degrees Fahrenheit for one hour. Turn them from time to time for even browning. Let them cool and then remove the skin. Their flesh will be soft and juicy — just perfect for soups, hummus and vegetable purees.
Try Stuffed Bell Peppers
Roasted peppers make a wonderful addition to salads, side dishes, sandwiches and other homemade meals. You can even enjoy them as a snack.
Vitamin C, one of the most abundant nutrients in bell peppers, boosts collagen synthesis and immune function, according to the National Institutes of Health. This antioxidant has been also shown to increase fat breakdown, reduce inflammation and suppress glucose metabolism. Therefore, it may protect against obesity and its complications, as noted in a May 2014 review in the Journal of Nutritional Science and Vitaminology.
For extra nutrition, add other ingredients to the mix. Try stuffed bell peppers to boost your protein intake. Depending on your preferences, you can use either ground meat or quinoa to fill the peppers. This quinoa stuffed pepper recipe has 283 calories, 10 grams of protein and a whopping 6 grams of fiber per serving. Dietary fiber promotes satiety, regulates blood sugar and improves appetite control, points out the Mayo Clinic.
Taste of Home offers some helpful tips on how to make stuffed bell peppers. One way to cut calories and get more fiber is to swap quinoa for white rice.
If you're trying to cut down on fat, fill the peppers with shrimp instead of ground beef. One serving (3 ounces) of cooked shrimp has only 100 calories and 1.4 grams of fat while the same amount of broiled ground beef provides 164 calories and 7.6 grams of fat.
Looking for high-protein breakfast recipes? Fill your peppers with rice and chopped bacon and top them with sunny side up fried eggs. Or you can try this delicious vegetarian stuffed pepper recipe, which has only 44 calories per serving. All you need are two yellow bell peppers, garlic, Greek yogurt, herbs and spices.