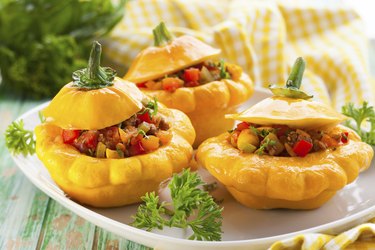 Early white bush scallop squash is a variety of summer squash more familiarly known as pattypan squash. Taking their nickname from their scalloped edges, pattypan squash are white, yellow, light or dark green.
According to the USDA, they are a good source of vitamin C, B, copper and manganese. Pattypan squash are quick and easy to cook by baking, sauteing and boiling.
Things You'll Need
Scallop squash

Paper towels

Serrated knife

Baking pan with cover

Unsalted butter or olive oil

Salt

Large skillet

Spatula or tongs

Large saucepan with lid
Position a rack in the center of the oven and preheat the oven to 350 degrees Fahrenheit.
Rinse the squash off under cool running water and dry it with paper towels.
Cut off the top and bottom of the squash with a sharp serrated knife, removing the stem and blossom areas. Turn the squash on its side and carefully cut downward to make 1/4-inch-thick slices.
Lay squash slices flat on the bottom of a baking pan. Drizzle them with melted unsalted butter or a bit of olive or other vegetable oil, and sprinkle salt to taste. Add any other seasonings you like, or according to the recipe you're preparing. Place another layer of slices over the first, repeating as needed.
Cover the baking pan and bake the squash for about half an hour, until tender. Keep in mind that cooking time differs by oven, quantity of squash and size of the slices.
Wash and cut the early white bush scallop squash into 1/4-inch slices. Discard the topmost and bottommost slices.
Preheat 3 tbsp. of unsalted butter or 2 tbsp. olive or other vegetable oil in a large skillet over medium-high heat.
Lay the squash slices flat in the pan and add salt and other seasonings. Reduce the heat to medium.
Saute the squash for 4 minutes, then flip the slices with a spatula or tongs. Saute the other side for another 4 minutes, and remove the squash once it's tender-crisp.
Clean the pattypan squash and use a serrated knife to cut it into 1/4-inch slices width-wise. Throw away the top and bottom slices.
Fill a large saucepan about halfway with cold water.
Lightly salt the water and bring it to a boil over high heat.
Add the squash slices to the water, turn the heat down to medium and bring the water to a boil again.
Cover the saucepan and boil the squash until it's tender-crisp, which should take about 10 minutes.