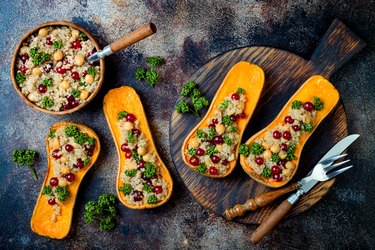 Squash is a low-calorie, low-fat way to add essential nutrients to your diet.
While squash is often treated like a vegetable, it's technically a fruit because it has seeds. Still, the USDA lists zucchini and other squash varieties in the vegetable food group.
If you have some extra squash in your fridge or pantry, you may wonder how you can pair this hearty plant with other foods to create balanced meals. Because there are so many varieties of squash, the dinner possibilities are endless.
There are dozens of different types of squash, some of which include:
Butternut squash
Green zucchini
Yellow zucchini
Kabocha squash
Acorn squash
Spaghetti squash
Pumpkin
Some squash varieties are in season in the summer while others are grown in the winter. Green zucchini is a summer squash. Other summer squashes include yellow crookneck squash, costata romanesco zucchini and yellow squash, according to the USDA.
Winter squashes, such as butternut squash and pumpkin, are available in the fall and winter months.
Squash Side Dishes to Try
Many things go well with squash, and your pairings may vary depending on the time of the year.
In the summer, squash pairs well with zesty flavors from lemon, fresh herbs like basil and seasonal produce like bell peppers.
"Autumnal squash pairs especially well with herbs and spices like sage, thyme, cumin, ginger and chili," Ceri Jones, a professional chef in London, tells LIVESTRONG.com. "It also goes well with meaty flavors such as pork or creamy, salty cheese like feta."
Try these squash side dish recipes:
Recipes That Go Well With Squash
Squash is a versatile, mild-tasting vegetable that can go well with many recipes. For example, squash goes with meats like poultry, beef and lamb. Try these recipes and pair them with one of the squash side dish recipes above:
Ideas for Cooking With Squash
Jones says these five meal ideas are perfect for using up leftover squash in your fridge or incorporating this nutrient-rich veggie into your seasonal meal plan.
Squash pairs especially well with risotto for dinner.
This warming meal is a traditional Italian dish made with a specific type of short-grain rice that is slowly cooked in a flavorful broth. Risotto is a versatile dish that can be made year-round with seasonal ingredients.
Jones recommends stirring steamed butternut squash into risotto and garnishing the dish with fried sage leaves.
2. Ravioli With Squash Filling
If you're looking for a quick dinner that involves squash, consider pasta.
Jones says that tagliatelle pasta is perfect to pair with squash. Alternatively, you can use various types of squash as a filling in ravioli recipes. Because squash and cheese complement each other nicely, you can grate fresh Parmesan cheese on top.
3. Squash, Pork and Onion Bake
Squash dishes are usually considered sides because they're not a significant source of protein. For more meaty meals, try this single-try dinner that Jones recommends. You'll need a baking sheet to bake cubed squash, pork chops, red onions and sprigs of thyme.
The creamy texture of squash complements the bold flavors of meat. Not to mention, baked squash with thyme will fill your kitchen with mouth-watering aromas.
4. Roasted Squash and Quinoa Bowl
When you're not sure what to make for dinner or how to use leftover veggies like squash, refer to this grain bowl formula. Simply add a whole grain, protein source, vegetable, fruit, dressing and topping to a bowl.
Jones says to roast chopped squash and add it to a bowl of quinoa. For added flavor and texture, stir in harissa chili paste and top with feta cheese and pomegranate seeds.
Butternut squash soup can be a side dish or main entrée. A comforting bowl of warm soup is the perfect end to a fall or winter day, and it's a great way to reap the benefits of a vegetable-rich meal.
If you have extra winter squash on hand, the USDA MyPlate recipe for squash soup can be made with acorn squash, pumpkin, butternut squash, crookneck or other varieties of winter squash.
Jones recommends blending cooked butternut squash into a creamy soup with ground ginger, cumin, onion and vegetable stock for a vegan-friendly dinner or side.