If you're looking for a low-calorie, low-fat way to add a boost of essential nutrients to your diet, look no further than squash. The vegetable comes in a variety of types, such as pumpkins, acorn squash, zucchini and summer squash, and has a mild enough taste that it can pair well with a variety of meats, pastas and other main dishes.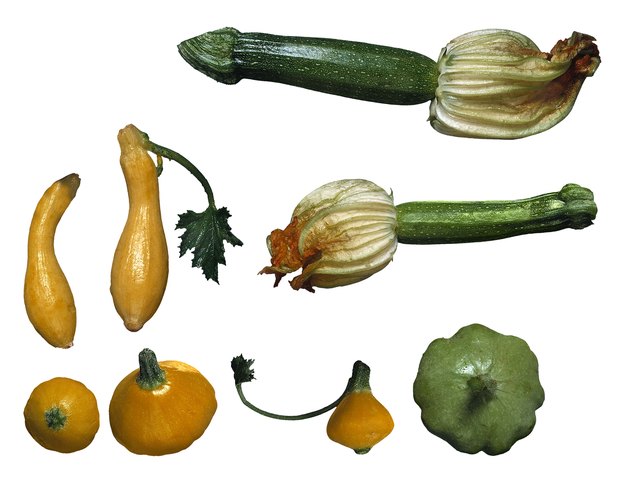 Perfect With Pasta
Squash is a good source of fiber on its own, but pair it with whole-wheat pasta, and you'll have a meal that packs up to half of the fiber you need for the entire day. The taste of squash pairs nicely with the mild flavor of pasta, as well. Roast butternut or acorn squash, cut it into cubes and toss it with cooked pasta, sautéed garlic and a drizzle of olive oil. Cut zucchini into ribbons and pair it with cooked whole-wheat linguine, diced onions and grape tomatoes. For a twist, use cooked spaghetti squash in place of whole-wheat noodles. Top the cooked squash with your favorite marinara sauce for a meal rich in fiber and vitamin A and lower in carbohydrates than regular pasta.
Matches With Meat
The creamy texture of many types of cooked squash complement the bold flavor of roasted or grilled meat. Puree cooked butternut or acorn squash with low-fat milk, which adds bone-building calcium to your meal, and fresh herbs and spices, such as sage or rosemary. Serve the squash with seared steaks in place of your usual mashed potatoes. Slice zucchini or crookneck squash and place it into a piece of foil that you've sprayed with nonstick cooking oil. Add fresh onions and garlic, and your favorite herbs and spices. Seal the packets, grill the squash until it's soft and serve it as a fiber and vitamin A-rich side dish for grilled chicken or pork chops.
Squash as the Star
Don't overlook squash as the star of your meal instead of the side dish. Roast acorn squash, fill the cavities with pinto beans, onions and cooked potatoes, which add potassium to your meal, and smother the entire thing with green chile and sprinkle it with cheese. Slice zucchini in half, scoop out the seeds and fill the cavities with a combination of bread crumbs, minced onions and chopped fresh basil. Bake the squash until it's soft and top the meal with tomato sauce, a good source of vitamin C, and a sprinkle of Parmesan cheese, which adds calcium and protein to the meal. Think beyond the fruit part of the squash, and stuff the squash blossoms with ricotta cheese, mushrooms and herbs, dip them in batter and fry them for three to four minutes. Drain the blossoms on paper towels, which will reduce the fat content of the meal, and serve them plain or with dipping sauce, such as tomato sauce or reduced-fat ranch dressing.
Squash as an Added Ingredient
The mild flavor of most varieties of squash makes them a versatile ingredient for adding to other foods to prepare a complete meal. Swap the usual eggplant in eggplant Parmesan for zucchini slices or grate your favorite kind of squash into pasta sauce for a quick way to add fiber, vitamin A and potassium to your meal. Cubes of butternut squash add flavor and fiber to mac and cheese and raw zucchini chunks add vitamin A and fiber to a tossed green salad. Pureed pumpkin adds a hefty dose of vitamin A to waffles or pancakes. Serve the pumpkin treats with fresh fruit and plain low-fat yogurt for a quick meal.