Sausages aren't a particularly healthy food, but the right preparation methods can minimize the amount of damage that they do. These processed meats are typically high in fat and salt, and may be loaded with other fillers and preservatives. While switching to poultry sausages is relatively healthier, you should still be mindful of how you prepare them. Your best option is a combination of boiling and grilling, which cooks your sausages without drying them out -- and unlike frying, doesn't make them soak up grease.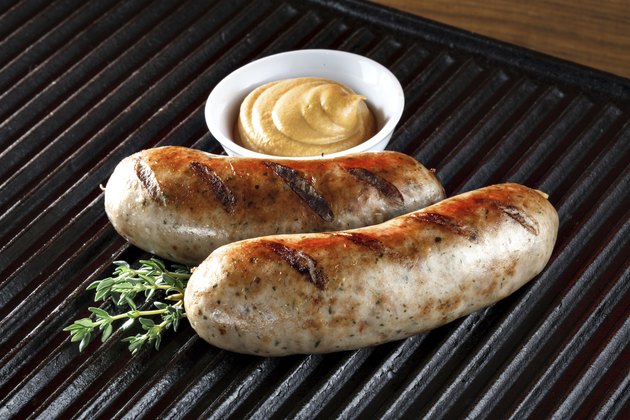 Step 1
Poke your sausages several times with a fork or skewer. This allows some of the fat to escape while they cook -- they won't be as plump or juicy, but those traits are directly associated with sausage's fat content.
Step 2
Simmer about three cups water in a saucepan. Sausages may also be boiled in other liquids like cider for flavor -- although this makes them soak up ingredients like sugar.
Step 3
Cover the pan and cook the sausages for about 20 minutes, turning them periodically with a pair of tongs. Keep the water to a low boil, since trying to cook the sausages quickly in a high boil will make them split open.
Step 4
Transfer your sausages to a hot grill to finish cooking them. By this point, they only need about 10 minutes on the grill before they are brown and ready to eat -- turn them at least once to keep the grilling even.
Step 5
Insert a meat thermometer into a sausage to make sure that they are fully cooked. Poultry sausages should have an internal temperature of at least 165 Fahrenheit, while all other types of sausage should be at least 160 F.
Things You'll Need
Fork or skewer

Three cups water

Saucepan with lid

Tongs

Grill

Meat thermometer
Tips
Take an internal temperature of your sausages before eating them. Grilling times may vary depending on factors like sausage size and filler content.
Choose sausages that are marketed as low in saturated fats and salt. Fresh sausages may contain fewer preservatives and artificial ingredients, as well.