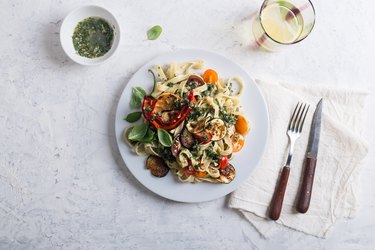 Trying to expand your slow cooking repertoire? If you're wondering how to go about cooking pasta in a Crock-Pot, here are some tips that can help as well as a slow cooker penne pasta recipe you can try out.
Tip
Pre-cooking the pasta before you add it to the slow cooker can help prevent it from getting mushy.
Cooking Pasta in a Crock-Pot
Slow cookers are great for meat roasts, soups, chili and casseroles, among other dishes. You can also try cooking pasta in a slow cooker; however, it's slightly trickier than other dishes because the pasta can get mushy if it's cooked for too long.
The USDA Food Safety and Inspection Service explains that unlike stovetop cooking, which uses high heat to cook food quickly, slow cookers use low heat, usually between 170 and 280 degrees Fahrenheit, to cook food over a long period of time. The steam trapped by the tightly covered lid also helps the food cook.
For most dishes, you would just throw all the ingredients into the slow cooker and come back to a cooked meal; however, you need to be a little cautious while cooking pasta in a Crock-Pot, to keep it from getting mushy.
Iowa State University Extension and Outreach suggests pre-cooking the pasta first, until it is slightly tender, and then adding it to the slow cooker in the last hour or two of cooking. If you've tried that in the past and the pasta still got mushy, PennState Extension recommends playing it safe by cooking the pasta separately and adding it to the dish later, when you serve it. This recommendation applies to other grains like rice as well.
Slow Cooker Penne Pasta Recipe
12 ounces of whole-wheat penne pasta
10.75 ounces of reduced-sodium cream of chicken soup
10.75 ounces of reduced-sodium cream of mushroom soup
10 ounces of tomatoes
1 red bell pepper
1 green bell pepper
½ a white onion
4 ounces of canned sliced mushrooms
2 cups of chicken breast
2 cups of low-fat shredded cheese
Here's what you need to do:
Prep the ingredients: Dice the tomatoes, bell peppers and onion. Drain the water from the canned mushrooms. Chop the chicken breast.
Boil the pasta: Boil the pasta in a pot over the stove for about five minutes. Drain the water and place the pasta in the slow cooker.
Add the other ingredients: Add all the other ingredients to the slow cooker. Give it a good stir until everything is combined well.
Let it cook: Set the slow cooker to the low heat setting and let it cook for two to three hours. Stir the dish before you serve it.
According to the Texas A&M Agrilife Extension, this recipe makes 12 servings. Each serving offers 230 calories, 28 grams of carbs, 18 grams of protein, 6 grams of fat, 351 milligrams of potassium, 198 milligrams of calcium and 2 milligrams of iron. It also offers 390 milligrams of sodium and 30 milligrams of cholesterol.