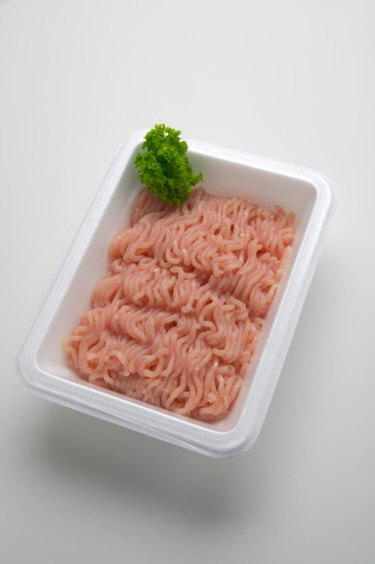 Whatever you can cook in your oven using ground beef you can also cook using ground turkey. Just as when you use ground beef, the leaner the meat, the greater the health benefits, but the more care you must take to avoid a dry and tasteless meal. This is especially true if you use ground turkey breast, which is about 99 percent lean. Ground turkey has a finer texture than ground beef and a taste of its own, making a meal such as turkey meatloaf or turkey burgers a nice change of pace.
Step 1
Heat the olive or canola in a skillet over medium-high heat. When the oil is hot, add the onions, carrot and garlic and saute the vegetables until they soften.
Step 2
Add the sauteed vegetables, ground turkey, parsley, bread crumbs, eggs or egg substitute and pepper to a mixing bowl and stir well to combine the ingredients.
Step 3
Spray a loaf pan with a light coating of vegetable-oil spray and spoon the turkey mixture into the loaf pan. Pat the meat with spoon to pack it into the pan. Run the spoon around the edges of the pan to create a space between the pan and the meatloaf.
Step 4
Preheat your oven to 350 degrees Fahrenheit, and bake the turkey meatloaf for about 40 minutes. Test for doneness by inserting a meat thermometer into the center of the meatloaf, making sure that the temperature is at least 140 degrees Fahrenheit.
Step 5
Remove the pan from your oven and let it sit for about five minutes, then use a spatula to transfer the meatloaf to a serving platter.
Things You'll Need
Skillet

1/ 2 to 1 tbsp. olive or canola oil

1/4 to 1/2 cup diced onions

1/4 to 1/3 cup shredded carrots

1 to 1 1/2 tsp. minced garlic

Mixing bowl

Stir spoon

3 lbs. ground turkey

1 to 1 1/2 tsp. chopped parsley

1/2 cup plain or flavored bread crumbs

3 eggs or egg substitute

1/4 to 1/2 tsp. black pepper

Loaf pan

Vegetable oil spray

Meat thermometer

Serving platter
Tip
To avoid extremes of greasy meat from too much fat or overly dry meat from not enough, choose ground turkey that is 92 to 96 percent lean for oven cooking.
Vary the flavor of your ground turkey by adding 1 tsp. each of Dijon mustard, Worcestershire sauce and oregano and ¼ tsp. paprika.