Wall pushups are an easier version of the standard pushup and work to improve muscular strength and endurance in the chest, shoulders and triceps muscles. Because pushups are a body weight exercise, there are many ways to perform them to make them easier or more difficult depending on your fitness level. Wall pushups are an excellent option for beginners who cannot support their body weight or pregnant women who cannot lie on their stomachs.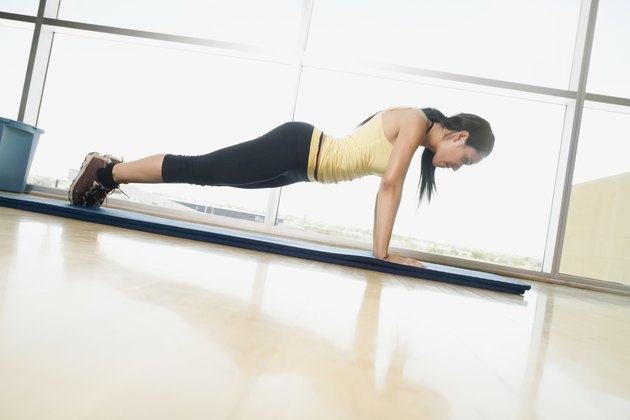 Basic Wall Pushups
Perform wall pushups by standing facing a wall and placing your palms slightly wider than shoulder-width apart on the wall. Position your feet about 2 feet away from the wall, so you are able to keep your arms straight with your palms flat against the wall. Keep your body straight and slowly bend your elbows, lowering your chest to the wall, until your upper arms are parallel to the wall. Press up until your arms are straight again and repeat.
Increase Range of Motion
The wall pushup is one of the easier variations of the pushup, because it reduces the stress placed on the chest. Perform wall pushups between a narrow doorway to allow for a greater range of motion or stretch in your chest, arms and shoulders. Placing your hands farther apart on the wall will work more of your chest; whereas, bringing your hands in closer together works more of your triceps and shoulder muscles.
More Challenging Pushups
Wall pushups are the easiest version of the pushup. Changing the angle of incline by performing the pushups off a bench will stress the chest more. Once you are strong enough to perform an incline pushup off a low bench, try doing bent-knee pushups or standard pushups on the floor. The most challenging variations of the pushup are performed with your feet elevated on a bench or block and your hands placed on the ground.
Walls to Floor
Beginners looking to progress to more challenging versions of the wall pushup should practice pushups at least three times a week on non-consecutive days. Begin your pushup workout with one set of 10 repetitions of wall pushups to warm up your chest. Rest one minute, then perform a set of 15 to 20 repetitions of pushups off a bench or between a narrow doorway. If unable to complete the more difficult pushup version, then finish the remaining repetitions on the wall. Complete three or four sets, resting 30 to 60 seconds between sets. Once you can complete all of your reps for a lower-incline or bench pushup, try progressing to bent-knee or standard pushups.
Cross-Training Chest Muscles
If you want to increase size and strength in your chest, you may need to perform additional chest exercises other than pushups. Additionally, performing other chest exercises will allow you to train your chest from different angles, which can build chest muscles. Include exercises such as the dumbbell chest press, chest flyes, dumbbell pullovers and cable crossovers in your strength-training routines. Complete two or three sets of eight to 12 repetitions for each exercise at least once a week.