Chocolate comes from cacao beans that grow on the Theobroma cacao plant, a tropical tree native to South America. In addition to the enticing flavor of this culinary delicacy, chocolate has certain properties that may provide health benefits, although research that supports these claims is limited. While cacao husks may have a laxative effect, there is no evidence that eating chocolate has a laxative effect.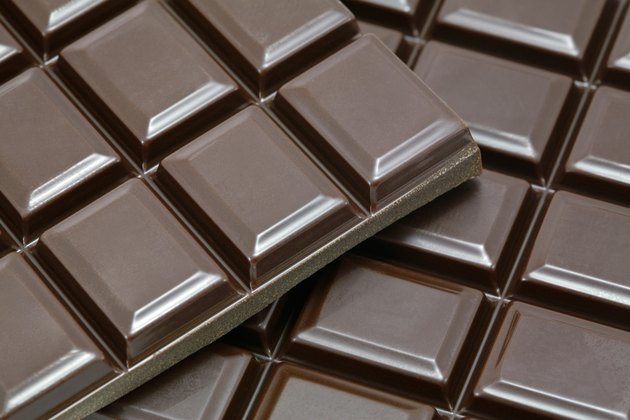 Laxatives
Foods with laxative effects help relieve constipation and produce bowel movements. These foods generally contain large amounts of fiber that help increase moisture into your digestive system and create bulk. Although some foods are natural laxatives that promote loose bowel movements, fiber supplements also help treat constipation. Cacao pod husks are a waste product of chocolate production. These husks may act as a laxative, but research is limited. The pod husks are not an ingredient in chocolate confections, but this waste product sometimes provides mulch for plantations or feed for livestock.
Chocolate
Although the chocolate in drinks, desserts and candy bars may not relieve constipation, there are numerous claims of other health properties including effects related to antioxidant capabilities, cardiovascular health, high cholesterol and skin conditions. Studies are inconclusive and additional scientific research may serve to confirm or negate these health claims.
Foods that Loosen Stools
Foods that tend to act as laxatives when ingested include fresh and dried fruits, such as berries, rhubarb, peaches, apricots and raisins. The edible skins on fruits contain a large portion of the fiber they provide. Vegetables that help relieve constipation include spinach, cabbage, lettuce, broccoli and corn. Beans, peas, almonds and whole grains also help promote regular bowel movements.
Considerations
Although chocolate is a common type of food, it may cause problems in some people, especially those with allergies or hypersensitivities to this product. Chocolate may increase the risk of headaches, obesity, high-blood pressure and bleeding. It can affect blood glucose levels in people with diabetes. If you have chronic constipation, talk to your doctor, especially if dietary changes or stool softeners don't provide relief.