Have you ever wondered if eating banana peels is a good idea? Bananas themselves are a great source of potassium, magnesium and folate, perfect for breakfast, post-workouts or snacking on the go. But can you use or eat banana peels to minimize food waste, and are there any benefits to eating banana peels?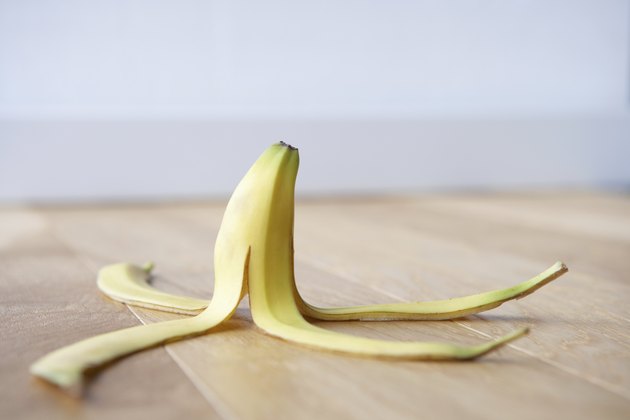 Tip
Banana peels are edible and contain protein and fat. They are safe for both humans and dogs to eat — but they might not be particularly tasty.
Eating Banana Peels?
The good news is that banana peels are not dangerous. So, you can definitely eat banana peels if you want to, but bear in mind that they might not taste great. Banana peel nutrition studies show that banana peels contain protein and fat, but they can also be thick, stringy and hard to chew. There's not much specific information available about the number of calories in banana peel, or a breakdown of the nutrients in a banana peel.
The peel of a ripe banana is usually thinner and sweeter than an unripe banana peel, which will taste slightly bitter. You can tell how ripe a banana is just by looking — a ripe banana will be yellow with brown spots or patches. For ideas on how to eat banana peels, research recipe websites for banana peel smoothies, soup, chutney, tea, stir-fries and more.
Can Dogs Eat Banana Peels?
If you live with pets, you might occasionally feed them food scraps or pieces of produce destined for your garbage can. Human foods like raw peanut butter, plain chicken and pieces of cheese are great treats for your pet — and bananas are OK for dogs to eat too.
The American Kennel Club (AKC) says that bananas are healthy for dogs to eat in moderation, as they are healthy treats that can provide your pup with potassium and vitamins C and B6. However, the AKC recommends against dogs eating banana peels — the peels aren't toxic to canines, but many dogs find them difficult to digest which could cause an upset stomach or even an intestinal blockage. Since banana peel nutrition isn't readily available, it's best not feed your dog large quantities of banana peel.
Other Uses for Banana Peels
If eating banana peels doesn't sound appetizing, there might be another way to use them. According to the Nutrition Source from Harvard's T.H. Chan School of Public Health, banana peels may have antiseptic and anti-inflammatory properties. A February 2015 study in the Journal of Ethnopharmacology noted that banana peels can be used to heal burns or minor skin irritations (just press the inside of the peel on the wound for a few minutes), but a bit more research is needed into whether this actually works.
And if eating banana peels or putting banana peels on your face doesn't sound appealing, you can always just compost your used banana peels.
If you're looking for more ways to incorporate bananas into your diet, you can whip up a variety of banana-rich recipes: