People who eat more fruits and vegetables tend to lose more weight than those who consume less of these nutritious foods, according to a study published in "Nutrition Research" in April 2008. Dates, however, many not be a very good fruit choice if you are trying to lose weight. While they are high in fiber, which can help with weight loss, they are also relatively high in calories and energy density.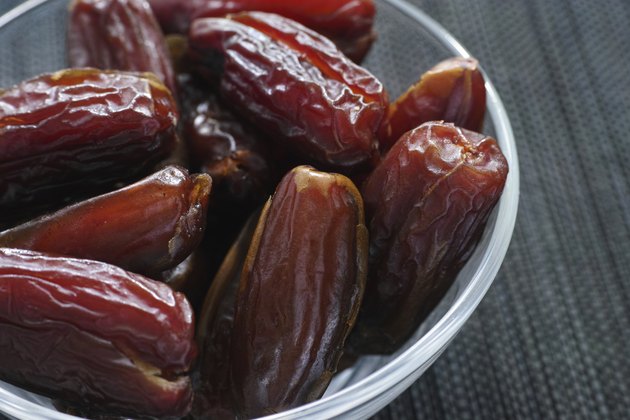 High in Fiber
Adding more fiber to your diet may help you lose more weight and shrink your waist size, according to a study published in "The American Journal of Clinical Nutrition" in December 2009. Fiber may help you feel full longer because it adds bulk to your diet and slows the emptying of your stomach. Each of the larger medjool dates has 1.6 grams of fiber, which is 6 percent of the daily value, or DV. Eat a half-cup of chopped deglet noor dates, and you'll consume nearly 6 grams of fiber, or 24 percent of the DV.
High in Calories
If you are following a reduced-calorie diet to try to lose weight, you won't be able to fit many dates into your meal plan without going over your recommended calories for the day. You need to reduce your normal caloric intake by 500 calories a day to lose one pound a week. When trying to lose weight, women may reduce their intake to 1,200 calories a day, while men may consume as few as 1,800 calories a day. A single medjool date has 66 calories, and a half-cup of chopped dates has about 208 calories.
Energy-Density Considerations
Foods that are low in energy density, or calories per gram, help you lose weight by filling you up without providing a lot of calories. Dates and other dried fruits are a lot higher in energy density than fresh fruits, so the Centers for Disease Control and Prevention recommends that you choose dried fruits less often. Dates have about 2.8 calories per gram, which means they are medium-energy-density foods. Most fresh fruits have 1.5 calories per gram or less, making them low or very low in energy density.
Better Alternatives
If you want to enjoy fruit, most fresh or frozen options will allow you to eat more fruit with fewer calories than the same amount of dates. For example, a medium apple has 95 calories, a cup of raspberries has 64 calories, and a cup of grapes for 62 calories.