The rate at which your body burns calories at rest is called the Basal Metabolic Rate. Depending on factors such as your height, weight, age and gender, this number can help you determine how many calories you are burning on a daily basis versus those you consume. Although teen girls can often burn off the majority of calories they consume each day with their BMR alone, physical activity and exercise can help increase the total number of calories you burn each day.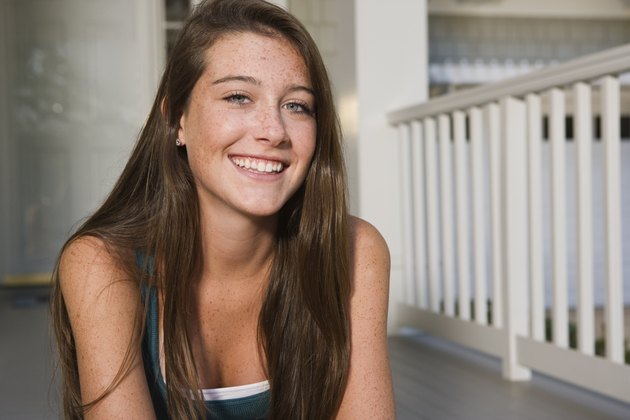 Basal Metabolic Rate
According to the Kid's Health website, the BMR is the total number of calories a person burns while at rest. Since individuals with lower BMR's burn fewer base calories, they are more likely to gain weight over time than someone with a high BMR. Although everyone's BMR gradually decreases with age, regular exercise and proper diet can help you maintain your teenage BMR well into your twenties.
How Many Calories?
The BMR Calculator available on the BMI website creates a total BMR based upon factors of height, weight, age and gender. According to the calculator, a 13-year old girl who is five feet tall and weights 100 pounds burns an average of 1,310 calories each day without exercise. An 18-year old girl who is five feet, five inches in height and weighs 120 pounds has a BMR of nearly 1,400 calories a day.
Calories and Weight Loss
According to the University of Maryland Medical Center, 3,500 deficit calories are required for every pound of weight loss. As a teenage girl this means that you will need a daily calorie deficit of at least 500 in order to burn one pound a week. To determine your calorie deficit, combine your BMR with the total number of calories you burn off with exercise, and subtract this number from the total number of calories you consume every day.
Considerations
While many teen girls attempt to lose weight by not eating altogether, this may have an adverse effect on your body's natural fat-burning metabolic processes. The BMI Calculator website reports that depriving yourself of food in hopes of losing weight can decrease your BMR, inhibiting your weight loss goals and potentially causing complications down the road. If you are considering losing weight, adopt a mineral-rich, low-calorie diet with sufficient amounts of daily exercise to ensure a balanced routine.