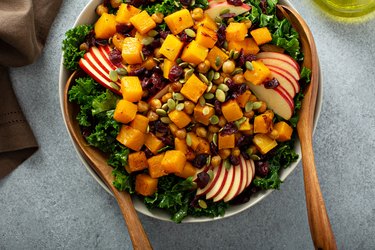 If the mention of squash conjures up images of steaming bowls of bright orange squash served as a side dish, you may be surprised to learn the variety of ways you can add frozen squash to your family's menu.
Winter squash is equally at home in sweet desserts as it is in creamy soups and sauces, while summer squashes add flavor and nutrients to casseroles and veggie dishes. How you serve your frozen squash depends on the type of squash and how it was frozen.
Summer squash includes straight or crocked neck yellow squash, zucchini, patty pan and other squash varieties eaten fresh when the rind is tender. These may be frozen in slices or wedges ready for adding to casseroles or pasta dishes.
Try adding thawed summer squash to creamy vegetable lasagna, or to casseroles or creamed soups and add whole rice for a hearty meal brimming with flavor and nutrients. Zucchini is often frozen shredded and ready for adding to breads and cakes. Thaw the frozen summer squash overnight in the fridge and drain them well to remove excess moisture.
2. Mashed or Pureed Winter Squash
Frozen mashed or pureed winter squash is ready for adding to muffins and bread, for use in pies and desserts, or to make creamy pasta sauces. Substitute frozen mashed squash for equal amounts of pumpkin to make pies, cookies or soft squash donuts.
Try your hand a savory squash soup by combining mashed squash with chicken or vegetable broth, cream and the herbs and spices of your choice. To add a spicy kick, add a little curry powder or go milder with ginger or nutmeg.
Cubed winter squash can be cooked and served as a side dish, but roasting it with herbs and spices gives squash an unexpected kick. Thaw and drain the squash. Cut the squash chunks into 3/4- to 1-inch cubes and place them in a bowl.
Toss the cubed squash with enough oil to lightly coat them and add the herbs and seasonings of your choice. Bake the squash in the oven until the cubes brown on the outside. Serve the roasted squash as a side dish or toss it in pasta dishes to perk up a mundane meal.
Types of Squash
Squashes vary in taste and texture, but as a rule, you can substitute nearly any winter squash for another. Likewise, different varieties of summer squash can be substituted for one another.
Use the varieties of squash you prefer or combine several squash varieties in recipes. Don't be afraid to experiment to find the signature dish you prefer.