When you cook something with spinach as a primary ingredient, you are creating a Florentine dish. In other words, when baking cod with spinach, the result is cod Florentine. Cod is a delicate fish, so spinach complements its flavor. The only two major requirements for making cod Florentine are cod fillets and spinach. Beyond that, you can create a distinctive sauce that will further enhance the taste of both the of the key ingredients.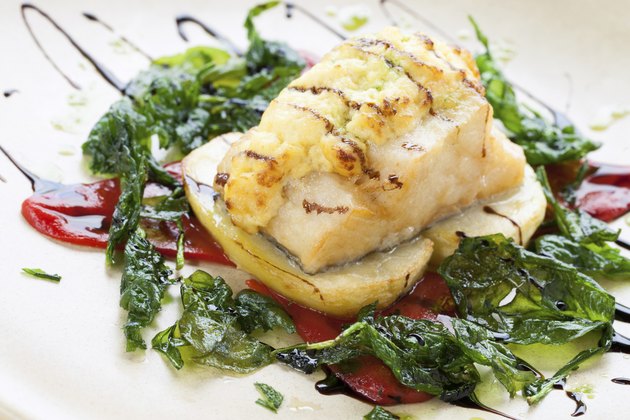 Step 1
Wash 1 lb. of fresh spinach under running water. Let the spinach sit in a colander for several minutes to drain.
Step 2
Place the spinach in a skillet and heat them on medium. Stir the leaves with a wood spoon as they cook to avoid scorching. When the spinach wilts, transfer it back to the colander to drain. Spread the drained spinach along the bottom of a baking dish.
Step 3
Mix 4 tsp. dried basil, 1 cup chopped red peppers and 2 tbsp. skim or low-fat milk in a blender or food processor to create a sauce. Pour 1/2 of the sauce over the top of the spinach.
Step 4
Set the cod fillets on top of the spinach and season them with a sprinkle of salt. Pour the remaining sauce over then fish.
Step 5
Cover the baking dish with a lid or aluminum foil. Bake the fish in the oven for 20 minutes. Remove the cover and poke at the cod with a fork. If done, it should flaky when touched.
Step 6
Mix 1/4 cup breadcrumbs and 2 tbsp. of grated Parmesan cheese together in a bowl. Sprinkle the crumb mixture over the top of the fish and bake uncovered until the top of the fish browns.
Things You'll Need
1 lb. fresh spinach

Colander

Skillet

Wooden spoon

4 tsp. dried basil

1 cup chopped red pepper

2 tbsp. low-fat or skim milk

Blender or food processor

Baking dish with lid

Aluminum foil

Salt

1/4 cup breadcrumbs

2 tbsp. Parmesan cheese
Tip
Substitute 20 oz. of frozen spinach for fresh if necessary. Allow the spinach to thaw completely and then drain it. If you use frozen spinach, there is no need to wilt it in the skillet.