Tiger prawns have a mild seafood flavor that readily absorbs many different spices. Prawns are often sold in grocery stores raw with the shells on. Not only do tiger prawns do well with a variety of flavors, they are readily cooked in any number of cooking methods including boiling, sauteing and grilling. While the prawns are easily cooked, they are also easily over-cooked, causing the meat to be tough. Eat tiger prawns within four days of a fresh purchase or within two days of thawing.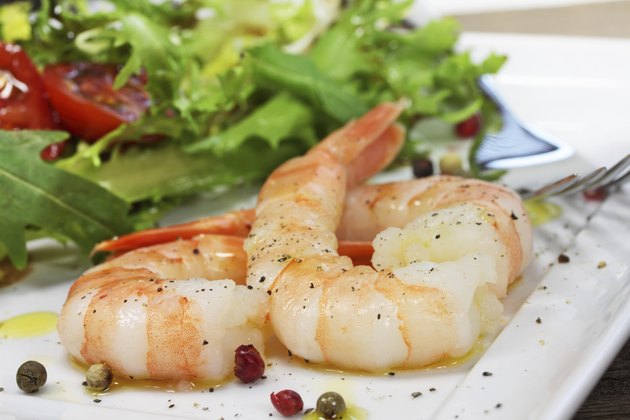 Boil Tiger Prawns
Step 1
Fill a pot halfway with water.
Step 2
Place the pot on the stove top, using high heat to bring the water to a rolling boil.
Step 3
Toss the tiger prawns with shells on in the boiling water.
Step 4
Let the water return to a boil. Once it does, cook the prawns for approximately 3 minutes. The flesh will turn from the brown color with yellow and blue banding to a white flesh with pink stripes.
Step 5
Remove the prawns from the water and arrange on a plate. Serve with lemon wedges or cocktail sauce.
Grilling Prawns
Step 1
Marinate the prawns in shells in lime juice and garlic powder mixed with melted butter, cooled to prevent cooking the prawns.
Step 2
Heat the grill up high heat to at least 400 degrees F.
Step 3
Pierce the raw prawn with a barbecue skewer. Slide it down to the bottom. Place five to six prawns per skewer, not letting them touch each other.
Step 4
Place the skewers on the grill. Cook for 1 to 2 minutes and turn the skewer over. Cook for another 1 to 2 minutes. Done prawns are white with pink stripes.
Step 5
Remove the prawns, shell them and serve with grilled onions and peppers.
Sauteeing Prawns
Step 1
Wash the prawns in cold water.
Step 2
Heat a skillet on the stove top. Place 1 tsp. of butter in the pan.
Step 3
Add 2 tsp. of minced garlic to the pan. Cook until golden brown.
Step 4
Season the prawns with a mixture of one part paprika, one part onion powder and one part cayenne pepper. Toss the prawns, covering the shells lightly in the seasoning. The shells will later be removed, but the prawns maintain the flavor blend.
Step 5
Put the prawns in the skillet, cooking them for 4 to 5 minutes, stirring them constantly. The prawns are ready when no longer translucent. Cooked prawns are white and pink.