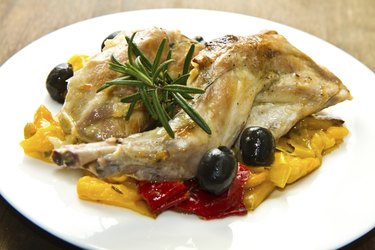 The French call it "lapin." The Italians say "coniglio." However it's pronounced or prepared, rabbit meat is a tender, white game meat popular in Western European cuisine. In America, it is more difficult to find. Few restaurants serve rabbit, and it is typically available only from specialty meat stores. Most rabbit recipes involved braising or frying, but oven roasting allows the flavor of the meat to stand on its own.
Step 1
Preheat your oven to 325 degrees Fahrenheit.
Step 2
Rinse the meat and pat it dry with paper towels.
Step 3
Cup the garlic clove in your fingers, and rub it along the outside of the rabbit to flavor the meat.
Step 4
Coat the rabbit with butter using your hands. The meat should have a thick coating of butter on its entire exterior.
Step 5
Set the rabbit in a roasting pan, and sprinkle it with salt, pepper, rosemary and herbes de Provence. Place the plan in the oven, and cook the rabbit 30 minutes.
Step 6
Slide the oven rack with the roasting pan out, and pour the lemon juice and wine over the top. Cover the pan loosely with aluminum foil.
Step 7
Cook an additional one hour, flipping the rabbit one-quarter turn every 15 minutes, each time basting with the accumulated pan juices.
Step 8
Uncover the pan, and increase the oven's heat to 450 degrees Fahenheit to finish. Roast the rabbit an additional 15 minutes, and continue basting to keep the meat from drying. When the rabbit is done, its exterior will be golden brown.
Things You'll Need
2 1/2 to 3 lbs. young rabbit in one piece

Paper towels

1 large garlic clove, split

8 tbsp. or one stick of unsalted butter at room temperature

Large roasting pan

1/2 tsp. dried rosemary or one fresh sprig

1 tsp. herbes de Provence

1/4 cup dry white wine

3 tbsp. freshly squeezed lemon juice

Aluminum foil
Tip
Serve the rabbit cut into pieces on a large platter with the pan juices spooned over it.
Warning
The USDA recommends cooking rabbit to an internal temperature of at least 160 degrees Fahrenheit.