Insulin is a hormone produced by your pancreas in response to glucose. If there's too much insulin in your bloodstream, you have hypoglycemia, or low blood sugar. When you have uncontrolled blood sugar, you may gain or lose weight. Weight gain is more common with hypoglycemia, as the only treatment for hypoglycemia is to eat. Eating the wrong foods can start a cycle of high and low blood sugar that often leads to overeating and weight gain. Weight loss is rare with hypoglycemia and occurs if your low blood sugar is due to fasting.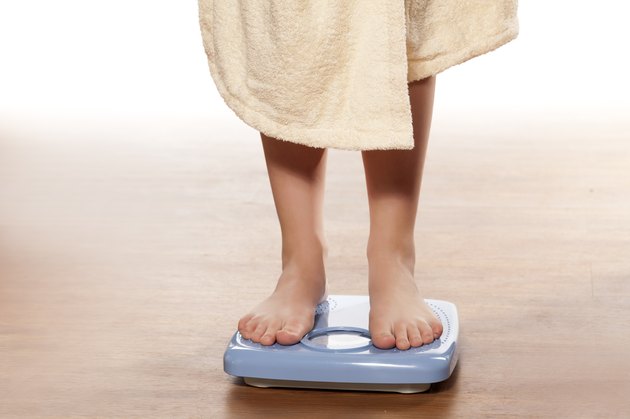 Understanding Blood Sugar
Blood sugar fluctuates during the day, depending on when, what and how much you eat. It should be at its lowest in the morning before breakfast -- called a fasting blood sugar. Glucose levels will be highest one hour after eating, but should return to normal two to three hours after eating, and may be a little lower right before your next meal -- signaling you to eat again. Both high and low blood sugar should be avoided -- ideally glucose levels remain stable. Avoid high blood sugar -- called hyperglycemia -- by not overeating and by restricting simple carbs that your body quickly converts to glucose. Hyperglycemia often leads to hypoglycemia, as your body tries to stem the rising flood of glucose by releasing insulin. Often in this situation, too much insulin is released, leading to low blood sugar just a couple of hours after eating. Other causes of low blood sugar include skipping meals, exercising more than normal and, for diabetics, taking too much insulin.
Low Blood Sugar and Weight Gain
Hypoglycemia causes hunger, which is the reason low blood sugar so often leads to overeating and weight gain. Your brain is tricked into believing you need more glucose because there is excess insulin in your bloodstream. Glucose that is not used for energy is stored as fat. Gaining weight is simple mathematics -- if you eat more calories than you burn, you will gain weight. Avoid low blood sugar and the subsequent cravings and you'll be better able to limit calories and lose weight.
Preventing Hypoglycemia
Dietary changes should stop the cycle of high and low blood sugar. Eliminate as many simple sugars from your diet as possible. Eat high-fiber carbs such as legumes, whole grains, fruits and vegetables. Don't drink your calories in soda, juice or coffee beverages. Eat six small meals, instead of three large ones to help keep a slow but steady supply of glucose available, advises dietitian Joanne Larsen. Don't eat carbs by themselves, but always in combination with lean protein and healthy fats, which slow digestion. Avoid alcohol and exercise regularly.
Hypoglycemia and Weight Loss
Low blood sugar doesn't lead to long-term weight loss. Keeping your blood sugar stable and in the normal range is your best bet to lose weight. Remember, insulin is the hormone that moves glucose into your cells for energy and triglycerides into your fat cells for storage. Hypoglycemia means you have too much insulin in your bloodstream; that translates into every last calorie and bit of fat being stored by your body. To lose weight, you want to decrease insulin levels.