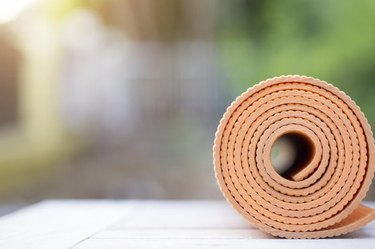 When faced with using a mat or towel for yoga, it really isn't a question of "Which one?" A yoga mat is a necessity for a successful, safe and comfortable practice. Specially made yoga towels, however, which are made of wicking fabric and often with rubber grips to hold them in place, are an add-on that can offer value in certain types of classes.
Choosing a Yoga Mat
While some purists might choose a yoga rug or bare floor for practicing, a yoga mat will make your practice more comfortable. Good quality mats are made of PVC or thermoplastic elastomer, or TPE, both of which offer some stick and and easy cleaning. Yoga mats are also available made from natural materials, such as bamboo, jute, natural rubber or cotton.
Which mat you choose depends on the type of practice you choose. A Restorative yoga practice, in which you're mainly in supported floor-based poses and not sweating, calls for a thick mat made of just about any material. Slipping and sliding isn't a concern.
A grippy PVC, TPE or natural rubber mat are your best bet for active practices, as they provide traction so you stay put as you Down Dog. Mat thickness is largely up to you. If you prefer some cush under your feet and knees, go for about 1/4- to 1/2-inch thickness. A 1/8-inch thick mat is standard, however, and may be preferable if you do a practice heavy on standing and balancing poses — you'll feel more in contact with the ground and stable if your mat isn't too thick.
Do You Need a Yoga Towel?
The grip and support provided by a yoga mat means it's a pretty necessary item. The question becomes, however, do you need a towel to cover it? A regular bath towel isn't appropriate for a yoga practice, as it isn't designed to stay put on your mat. A yoga-specific towel, however, has small grips on the bottom that lay on your sticky mat, so the towel doesn't slide. Terrycloth towels also get heavy as they soak up moisture and don't absorb sweat as efficiently as microfiber versions made for yoga.
Before purchasing a yoga towel, ask yourself the following:
Do you attend a practice during which you sweat a lot?

Do you want the most hygienic practice possible?

Do you want your mat to last a long time?
The Absorption Factor
If you attend a particularly juicy practice, such as a Hot Fusion class or traditional Bikram yoga, you might appreciate the extra absorbency a yoga towel provides. Yoga mats aren't designed to absorb sweat and may become slick in high temps and humidity levels.
Place a yoga towel over your mat to absorb some of the sweat and keep it feeling grippy. You'll then be able to stick your Eagle and Dancer with confidence.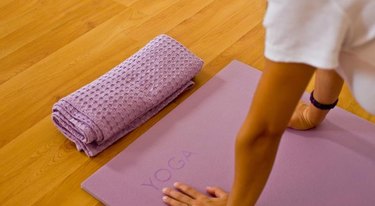 If you don't want to invest in a full-length yoga towel, purchase a hand-sized one to wipe sweat away. A hand towel is useful if you sweat lightly in your practice and occasionally need to dab your brow, but your hands and feet stay mostly dry.
The Laundry Factor
Spritzing down your yoga mat with a mixture of essential oils and water or another natural cleaning solution is always a good idea. But, it can be a bit more of a challenge to deep-clean a sticky mat. A yoga towel is easily tossed into the washer, so all the oils from your skin, dead cells and sweat wash away to leave a hygienic barrier between you and the mat you use. A towel is especially valuable if you rely on studio mats — you really don't know where those have been.
The Protection Factor
Some yoga mats can be a big investment, so you want it to last as long as possible. Using a yoga mat protects your mat from the wear and tear of constant use. You benefit from the softness of the mat, but a towel protects it from developing holes or tears due to friction.