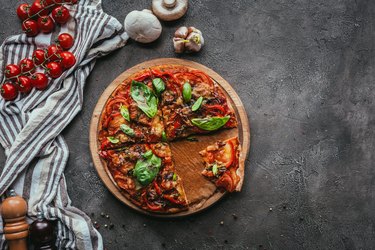 Whole Foods Market's mission is to offer folks nutritious and organic foods, and grocery's pizza dough fits well with that goal. Whole Foods' pizza dough contains just a handful of ingredients, including organic flour and ancient grains like spelt.
How to Use Whole Foods' Premade Pizza Dough
Whole Foods pizza crust bakes up in less than 15 minutes. If you aren't using it right away, freeze it for up to three months.
Aside from making pizza, you can use premade pizza dough to make:
Flatbreads
Garlic knots
Crackers
Galettes
Pot pies
Quiches
Things You'll Need
Whole Foods pizza dough

Pizza pan or baking stone ($30, Amazon.com)

Nonstick cooking spray or oil

Flour or cornmeal

Marinara sauce, ranch dressing or olive oil

Grated cheese

Meat

Vegetables

Herbs

Garlic

Salt

Pepper

Cooling rack or hot pad

Pizza slicer
Remove the frozen dough from the freezer and set it in the refrigerator overnight to thaw. You can also set it on the counter 1 1/2 to 2 hours before you plan to bake the pizza.
2. Warm to Room Temperature
Allowing the dough to warm to room temp makes it softer and easier to roll out.
Heat the oven to 450 degrees Fahrenheit. A hot oven is essential for making a crisp crust when using a Whole Foods pizza crust. If you're using a metal pan, grease the pizza pan by spraying it with a nonstick cooking spray.
Rub a pizza stone lightly with oil, according to the manufacturer's directions.
Tip
Pizza stones help create a crispy, browned crust. Perforated pizza pans have tiny holes to allow heat to penetrate the bottom of the crust so that it cooks evenly.
Sprinkle the countertop with flour or cornmeal. Lightly press the thawed dough out on the countertop to flatten it. Pick it up and carefully stretch the dough between your fingers, turning it as you work.
The dough should be about 1/4 inch thick when done.
Place the dough on the pizza pan or stone. Spread marinara sauce, ranch dressing or a drizzle of olive oil over the pizza, depending on your preferences. You can top the pizza with cheese, meat, herbs and garlic. Give it a dash of kosher salt and pepper if desired.
Add a colorful array of veggies to your pizza for extra vitamins and minerals.
For a healthier pizza, add lower-fat meats, such as ground chicken or turkey breast instead of sausage or ground beef. Poultry breast is lower in saturated fats, which are linked to higher LDL ("bad") cholesterol levels, according to the Mayo Clinic.
Top your pizza with low-fat or nonfat cheese to help meet the 3-cup-equivalent daily dairy intake recommendations made by the USDA.
Bake the pizza on the lowest oven rack in the oven for 8 to 12 minutes, or until the crust is brown and the cheese is bubbly and melted.
Cool the pizza on a hot pad or cooling rack for 10 minutes before slicing it. Cooling allows the cheese to set and makes the crust easier to cut.
Then, slice into individual pieces and serve.
‌Check out more of our helpful pizza-cooking articles below:‌
Now that you know how to use Whole Foods pizza dough, you can get creative with any toppings you have in your fridge or pantry, or try a specific recipe.
‌Get started with these delicious homemade pizza recipes for any time of day:‌