Serotonin is a neurotransmitter and hormone that's found throughout the body. If you have too little serotonin, it could lead to unwelcome changes such as mood disorders, depression or digestive upset. This imbalance is called serotonin deficiency. There may not be a cure for it, but treatment is available.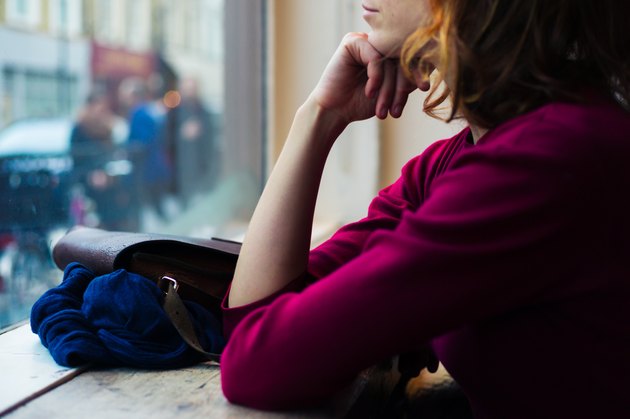 What Serotonin Does
Serotonin is one of many chemicals that your body produces. It's also known as 5-hydroxytryptamine, and it's a neurotransmitter, which means it helps transmit messages to your brain. Having the right amount of serotonin in your body helps ensure that signals get to your brain properly. When you have too little serotonin, your brain can misinterpret the data it receives -- kind of like a computer with a bug. The serotonin in your digestive tract helps keep things moving smoothly there.
Serotonin Deficiency, Mood Disorders and Depression
Having too little serotonin in your body has been linked to depression and other mood disorders. Serotonin transmits signals to your brain and then is reabsorbed by your body so it can send the next signal. When you have a deficiency, the serotonin you do have may be reabsorbed too soon, making it unavailable to transmit signals on time. This can lead to depressive symptoms such as sadness, lethargy, insomnia and even suicidal thoughts.
Serotonin Deficiency and Digestion
Serotonin is also produced in your intestines. There, it helps your muscles work properly and aids your digestion. If you have a serotonin deficiency, you may experience sluggish digestion or constipation, because the muscles that help move waste through your body can't function properly.
Selective Serotonin Reuptake Inhibitors
Selective serotonin reuptake inhibitors, or SSRIs, are pharmaceutical compounds that block the serotonin in your body from being absorbed to soon. This leaves more serotonin available to transmit signals to your brain and helps restore the serotonin balance in your brain. SSRI drugs include drugs like Prozac, Celexa, Paxil, Zoloft and Lexapro. You must visit a doctor for this treatment.
5-HTP
5-HTP is a synthetic form of tryptophan, which is what serotonin is made from. It is available at drug and health food stores without a prescription, and is intended to work the same way SSRI drugs do. Before taking any kind of supplement, consult your doctor. Even over-the-counter treatments may have side effects and can be incompatible with other treatments you're using.