Around 20 percent of women have at least one urinary tract infection in their lives and 3 percent suffer from recurrent urinary tract infections, Darren Lynch, M.D., of Beth Israel Medical Center reports in the December 2004 issue of the "American Family Physician." A painful condition that causes bladder spasms, difficulty urinating and sometimes fever, urinary tract infections, commonly called UTIs, normally required antibiotic treatment. Over-the-counter cranberry supplements taken daily may help prevent urinary tract infections, but talk to your doctor before taking cranberry supplements.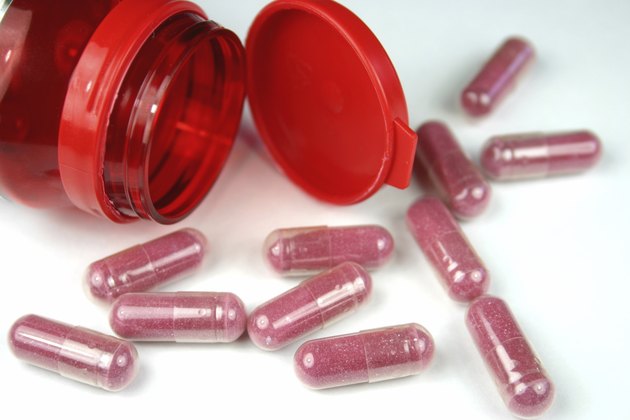 Adult Dose
According to Drugs.com, there is no standard dose of cranberry supplement for preventing UTIs. Different studies have used varying amounts of the supplement. A 500 mg daily dose was as effective as antibiotics in preventing recurrent UTI in older women in a study published by researchers from the University of Dundee in the November 2008 issue of the "Journal of Antimicrobial Chemotherapy." A dose of 300 mg to 400 mg twice daily has also shows effectiveness in a clinical trial reported in the 2009 "Canadian Journal of Urology," according to Lynch. Ask your doctor about the best dose for you to take.
Child Dose
Studies have not established a safe dose of cranberry pills for children with recurrent UTIs. Do not give your child cranberry pills without your doctor's approval and supervision.
Actions
Contrary to previous beliefs, cranberry does not prevent urinary tract infection by creating acidic urine. Instead, condensed tannins found in cranberries prevent P-fimbriated E. coli, one of the main bacterial culprits that cause UTIs, from attaching to the bladder walls, according to director of health services Carol J. Mulvihill, BSN, RN-C of the University of Pittsburgh. A daily dose of cranberry helps prevent the bacteria from replicating, causing a UTI.
Risks
Risks of cranberry supplements include an increased risk of developing kidney stones if you have a tendency toward them due to the oxalate content in cranberry. Cranberry could possibly increase the risk of bleeding; don't take cranberry without your doctor's permission if you take blood thinners. Cranberry pills should not be taken as a substitute for antibiotic treatment if you develop a urinary tract infection. You can safely use cranberry pills for up to 12 months as prophylactic treatment for UTI's; ask your doctor if it's safe for you to take the pills for a longer period.