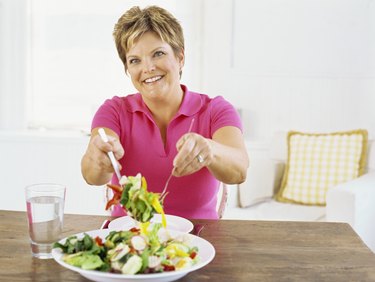 If you are trying to lose weight, a 1,350 calorie diet should do the trick. While a 1,350 calorie diet is not a starvation diet -- there are extremely low calorie diets that allow only about 800 calories per day -- it qualifies as a stringent diet. The recommended daily calorie allowance for a normal size woman ranges from 1,600 to 2,400 calories per day, depending on age and activity level. Men of average size should consume 2,200 calories to 3,000 calories per day, according to the National Institute of Medicine. Always check with your health care provider before starting a low-calorie diet.
Diet Bites
You can find a variety of weekly meal plans that weigh-in at about 1,350 calories. Some are more imaginative than others. The Diet Bites website, for example, offers meal plans that give dieters a break from monotony with the occasional candy bar, fast food burger or taco, smoothie, frozen food dinner or BLT. For example, you might eat a breakfast of fruit and tea or coffee on the Diet Bites meal plan, followed by a 200 calorie treat, such as a candy bar, for a snack. Lunch might consist of a fast food burger or taco and diet soda. For dinner, fix up a plate of veggies with a 1/2 cup of lean meat. Such a diet might be easier to stick to than one that rarely varies what you are allowed to eat.
Weight Loss Resources
Weight Loss Resources details meal plans that also allow for more variety than many diets. This is touted as a budget diet plan, with recipes for all items provided. The diet for Day 1 includes fruit, low-fat yogurt and muesli on the menu. For lunch, roast chicken, a salad of lettuce and cucumber and two pieces of whole-grain bread might fill you up. Dinner brings more roast chicken, Yorkshire pudding and gravy, boiled potatoes, mixed vegetables and a low-fat rice dessert. While it seems more extravagant than most diet plans, the Weight Loss Resources diet adds up to 1,350 or less calories per day.
Freedieting
There are a number of free menu plans on the Freedieting website. A low-fat 1,350 calorie menu for the first day consists of turkey bacon, two scrambled eggs and one piece of toast for breakfast, a small turkey sandwich with lettuce and tomato, an apple and 12 oz. diet soft drink for lunch, a cup of sliced carrots for an afternoon snack -- and white fish, brown rice, salad, and mixed vegetables for dinner, with a night-time snack of yogurt with granola.
Ramona Josephson's Mix and Match
Ramona Josephson, a registered dietician in Vancouver, recommends a create-your-own meal plan that adds up to about 1,350 calories per day. She says that a diet of 1,350 to 1,500 calories per day will allow most women to lose weight. Josephson divides her foods into 90 calorie portions and gives you examples of three breakfasts, four lunches and five dinners to mix and match. For example, breakfast choices include a smoothie with low-fat yogurt, skim milk, a banana and frozen berries, or an omega-3 egg with veggies, a slice of whole-wheat toast and a cup of fruit or half bagel with a hard boiled egg and fruit. However, you can mix any of the 90 calorie portions, so you have dozens of meals to choose from every day. You can also choose seven treats per week from a list that includes a glass of wine or light beer, chocolate chips and ice cream.