Few things are more frustrating than putting time and energy into a recipe only to have it turn out badly. While low-quality ingredients, the wrong heat setting and poor technique can each befoul a perfect dish, when you're cooking with tomatoes, the pan you choose counts, too. Though some metal pans are well-suited to tomato dishes, others are not. Knowing which is which can help you create delicious tomato-based meals.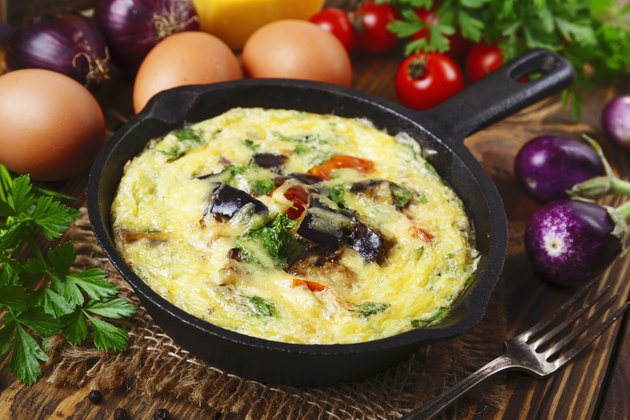 Understanding Reactivity
"Reactivity" is the culinary term chefs use to describe chemical reactions that take place between acidic ingredients -- like tomatoes -- and the cookware used to prepare them. Using a reactive pan can produce chemical reactions which cause an unpleasant, metallic taste, and these reactions can damage the surface of your pans, shortening their lifespan. According to "Cooks Illustrated Magazine," there has even been some concern that aluminum from cookware may leak into food and cause health problems such as an increased risk of developing Alzheimer's disease.
Reactive Pans
Not all metals react with acids. Those that do include untreated aluminum and cast iron; problematic as both aluminum and cast iron cookware are readily available and inexpensive. While aluminum conducts heat easily -- often causing hot spots that can burn food -- cast iron radiates heat evenly and can withstand the highest of kitchen temperatures. Fortunately, manufacturers have found ways to make these pans safe for use with tomatoes.
Nonreactive Pans
Nonreactive pans include all nonstick and stainless steel cookware. The chemical nonstick coating does not react with acid or other foods, though it will eventually chip off. Stainless steel is chemically inert and will not sustain damage when exposed to acids. If you want aluminum or cast iron cookware, look for anodized aluminum -- which has been treated to render it inert -- or porcelain-coated cast iron. Chef Alton Brown reports cast iron pans with a slick, black surface have enough carbon buildup to render them safe with acidic ingredients, though you may want to reserve them for quick-cooking dishes and not all-day tomato sauces, just to be sure.
Shopping Tips
When shopping for nonreactive cookware, keeping a few tips in mind can help you make the most of your investment. Always look for the word "nonreactive" on the packaging. Brown recommends rough-surfaced nonstick cookware, which releases food more easily. "Cook's Illustrated Magazine" recommends clad cookware, which has a layer of aluminum or copper sandwiched between two layers of stainless steal, giving you a nonreactive surface that heats evenly. All cookware should feel slightly heavy and feature a riveted handle, which won't loosen or fall off after heavy use.