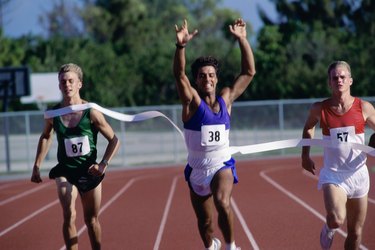 You'll hear "lactic acid" and "lactate" used interchangeably by trainers, coaches and other sports experts. Colloquially, people assume you mean the same thing when you use either term, but they are technically different. Lactate is produced by your body in response to aerobic exercise and serves as a fuel for the muscles, delays fatigue and prevents injury. Lactic acid contains one additional proton and is not produced by the body at all during exercise.
One Proton
The technical difference between lactate and lactic acid is chemical. Lactate is lactic acid, missing one proton. To be an acid, a substance must be able to donate a hydrogen ion; when lactic acid donates its proton, it becomes its conjugate base, or lactate. When you're talking about body's lactate production and lactate or lactic acid threshold, the difference is largely a matter of semantics. But, the body produces and uses lactate -- not lactic acid.
What Is Lactate?
During hard exercise, from running a race to surfing the waves, your breathing rate increases to deliver more oxygen to the working muscles. Some exercises are so intense -- such as lifting a heavy dumbbell or swimming away from a shark -- that your body cannot use oxygen fast enough as a source to create fuel. For these quick, intense bursts of activity, your body needs to move into anaerobic mode -- during which the stored energy in your body is broken down into a compound called pyruvate.
When you don't have enough oxygen to perform activity, your body turns pyruvate into lactate to fuel the muscles. Fit folk can utilize this form of energy production for one to three minutes.
High Levels of Lactate
As the muscles work at intense levels, they become more acidic, which interferes with firing. Lactate isn't the cause of this acidity; it's actually an antidote to this muscle failing. As your muscles lose power and energy, lactate swoops in to help counteract the depolarization of the cells. This is the familiar burn in the muscles you feel when you just can't do another rep. Lactate production is a protective mechanism that prevents the body from hurting itself. When lactate production can't continue to the levels needed to prevent the complete failure of the muscles, you reach your threshold.
High levels of lactate -- or, as it is sometimes called, lactic acid -- were once blamed for delayed-onset muscle soreness. Lactic acid or lactate are not responsible for the soreness. Rather, researchers believe it is due to micro tears in the muscles that occur during strenuous exercise.
A Measure of Athletic Success
Lactate is essential to the exercising process. It helps bolster the mitochondria, energy powerhouses inside each of your muscle cells. Increase the number of mitochondria in your cells, and you'll improve your stamina and strength. High-intensity interval training in which you do short bouts of very strenuous exercise at or near your lactate threshold followed by recovery is especially effective in developing your lactate threshold. The better able you are to process lactate, the greater your ability to push high levels of performance.
About 75 percent of the lactate you produce during exercise is used as this moderating energy source; the other 25 percent leaks into the blood, which is how scientists test lactate levels during exercise. At one time, it was thought that high-level athletes produced less lactate; it's more likely that these athletes are better able to utilize the lactate they produce and leak less into the bloodstream, so their tests show lower amounts.