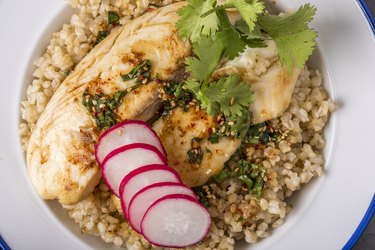 It's a smart move to have tilapia on your grocery shopping list, as the fish is good value when it comes to making nutritious and easy-to-cook family meals. But having some go-to tilapia recipes up your sleeve is one thing; what to serve with the fish can be harder to determine.
How Healthy Is Tilapia?
Tilapia doesn't always get the best of press, as it's a farmed fish and fish aquaculture hasn't traditionally had the best reputation. But you should ignore scary stories of toxins in farmed tilapia — the Scientific Report of the 2015 Dietary Guidelines Advisory Committee found no evidence that dioxin and mercury levels were any different between farmed and wild fish.
Indeed the Food and Drug Administration included tilapia in its 2017 list of "best choices" for seafood consumption by pregnant women and children, recommending two to three servings per week.
Another quarter should come from high nutritional quality carbohydrates such as whole grains or pulses (lentils and dried peas and beans), while the remaining half of your plate should be filled with a variety of vegetables and whole fruits. It's good to have a couple of servings of dairy daily too.
With these healthy portions top of mind, there are a number of options for tasty tilapia sides. Try to include both veggie-based and carb-based sides, remembering a serving of the former should be twice the size of a serving of the latter.
Carb Sides for Tilapia Recipes
Quinoa: The USDA says a cup of cooked quinoa has 5.2 grams of fiber, along with 2.76 milligrams of anemia-protective iron and 118 milligrams of magnesium — another important mineral. A neat way to serve quinoa with tilapia is by adding cucumber, dill, feta, olive oil and lemon juice to cooked, cooled quinoa, making a tasty side salad.
Rice: Fish and rice go so well together, and sides for tilapia don't get any better than our fabulous Colorful Rice Pilaf with pomegranate seeds. Try swapping the long grain white rice for brown basmati to bump up the fiber content.
Pulses: Beans and lentils have a low glycemic load, which means they don't suddenly dump a load of fast-releasing carbs into the system. Harvard T.H. Chan School of Public Health says lower glycemic diets may reduce your risk of developing Type 2 diabetes. Try serving our super simple Bulgur and Black Beans dish as a side.
Veggie Sides for Tilapia Recipes
Roasted vegetables: You can afford to add some good fat like olive oil to the veggies you serve alongside grilled or baked tilapia. Aim for a colorful selection of vegetables, such as orange and yellow bell peppers, red onion, aubergine and zucchini. Drizzle with oil and cook in a medium oven for around 30 minutes.
Squash: The velvety texture of squash goes well with firm-fleshed tilapia. According to the USDA, half a brightly colored acorn squash contains 474 micrograms of the antioxidant beta carotene and 3.2 grams of fiber. Our substantial Vegetable-Stuffed Acorn Squash recipe doubles up as a carb serving too.
Broccoli and spinach mix: These powerhouse veggies both make it onto the American Institute for Cancer Research's "Foods That Fight Cancer" list. Serving them Asian-style works well with tilapia. Stir-fry small pieces of broccoli florets/stalks with minced garlic and chili flakes. Wilt in some spinach and stir in a teaspoon each of sesame oil and sesame seeds.