Prunes, or dried plums are known for their laxative effect. But these wrinkly fruits have many other potential health benefits. They're loaded with nutrients, fiber and antioxidants that may strengthen your bones, improve your vision and help maintain proper bowel function.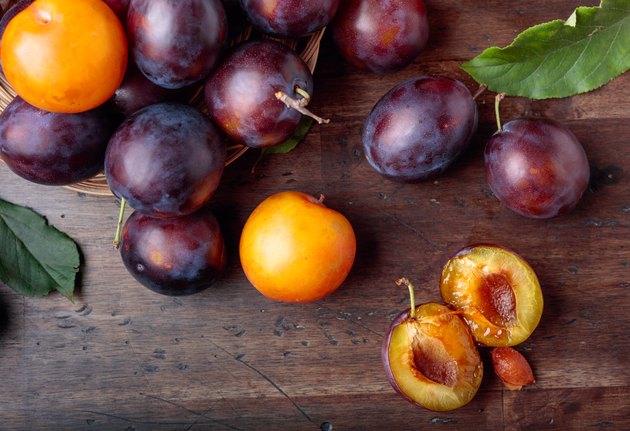 Tip
Prunes are a powerhouse of vitamins and minerals, especially potassium, iron, riboflavin and vitamins A and K, all of which can contribute to keeping your body functioning properly.
Prunes Contain Healthy Macronutrients
These fruits are nutrient-dense but pack a substantial number of calories. Per serving, or 1/4 cup, pitted prunes contain about 105 calories. If you're trying to manage your weight, you should definitely monitor your consumption of prunes.
The sugar content in prunes is quite high — 17 grams per serving — but it is the natural form of sucrose, fructose and sorbitol. Due to their low glycemic index rating, prunes have a negligible impact on blood sugar levels.
The glycemic index is a ranking of how quickly blood glucose levels rise after you eat a particular food. Prunes have a GI rating of 29 and a glycemic load of 10, and low GI foods may reduce your risk of Type II diabetes and heart disease.
A good source of energy, prunes provide 28 grams of carbohydrates per serving. Eating three plums for a pre-workout snack will give you 19.2 grams of carbs, without any fat or cholesterol.
Prunes get their reputation for being one of the foods that help you poop thanks to their high fiber content. A 1/4-cup serving delivers 3.1 grams of fiber — that's more than 12 percent of the recommended daily intake.
Prunes Are Packed With Nutrition
Eating a bowl of stewed prunes each morning will set you up with a small amount of protein — about 0.8 grams per serving — and all the vitamins and minerals your body needs for good health. These fruits provide the following essential minerals:
Calcium: 18.7 milligrams or 1.5 percent of the DV per serving

Iron: 0.4 milligrams or 3 percent of the DV

per serving

Potassium: 318.4 milligrams or 7 percent of the DV

per serving

Magnesium: 18 milligrams or 4 percent of the DV per serving

Phosphorus: 30 milligrams or 3 percent of the DV

per serving

Zinc:

0.2 milligrams or 2 percent of the DV

per serving

Copper:
0.12 milligrams or 14 percent of the DV
per serving
Manganese: 0.15 milligrams or 6 percent of the DV

per serving
Prunes also deliver high doses of B-complex vitamins. These nutrients provide your body with the energy it needs for the proper function of your brain, muscles, skeletal system and cell function. One serving of prunes contains:
Thiamin: 0.02 milligrams or 1.7 percent of the DV

Riboflavin:

0.07 milligrams or 6 percent of the DV

Niacin: 0.8 milligrams or 5 percent of the DV

Vitamin B5:
0.17 milligrams or 4 percent of the DV
0.1 milligrams or 5 percent of the DV
Folate: 1.75 micrograms or 8 percent of the DV
Vitamin A: 339.4 IU or 11 percent of the DV
Beta-carotene: 171.4 micrograms or 2 percent of the DV
Vitamin E: 0.175 milligrams or 1.2 percent of the DV
Vitamin K: 25.8 micrograms or 21.5 percent of the DV
Vitamin C: 0.25 milligrams or 0.25 percent of the DV
Keep Your Bowels Healthy
Adding prunes or plum juice to your diet is a good way to keep your digestive system functioning properly. Prunes are rich in dietary fiber, the sugar alcohol sorbitol and phenolic compounds, all of which are poorly absorbed in the small intestine. They pass undigested into the colon, adding bulk and drawing moisture into your digestive tract to soften the stool, which helps prevent constipation.
The systematic review of four trials has found that consuming 100 grams of prunes per day was more effective than psyllium, a bulk fiber laxative, for improving stool weight, consistency and frequency in participants with constipation. Further research was suggested to determine the benefits for non-constipated individuals.
Additionally, prunes have been shown to have a positive effect on the microbiota, or gut bacteria, in the digestive system. Research from the College of Agriculture and Life Sciences in Texas and the University of North Carolina showed that prunes promote the retention of beneficial bacteria in the colon, which could help reduce the risk of colon cancer. The results of the research were presented at the 2015 Experimental Biology conference in Boston.
A large prospective study in the American Journal of Clinical Nutrition, published in August 2015, also suggested that colorectal cancer rates were reduced with a high intake of dietary fiber.
Prunes: Good Source of Iron