The average American consumes 3,300 milligrams of sodium each day, 1,000 milligrams more than the recommended limit, says the Centers for Disease Control and Prevention. Approximately 65 percent of this sodium is from processed foods available at the grocery store, including frozen dinners. As long as you chose low-sodium options that feature a balance of whole grains, lean protein and produce, frozen dinners can be part of a healthy diet, registered dietitian Laura Cipullo says in "Today's Dietitian."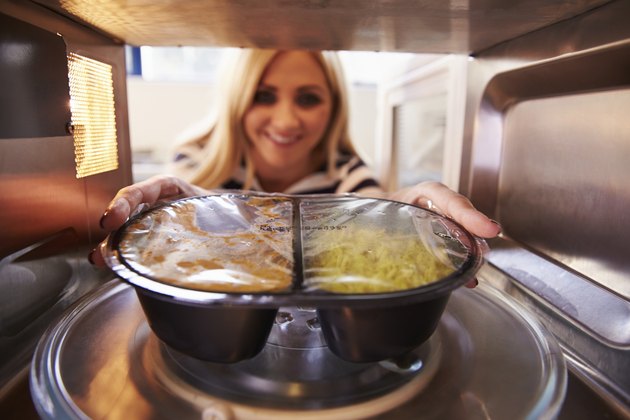 Check the Sodium Content
According to Cipullo, the best low-sodium frozen dinner options contain no more than 600 milligrams of sodium per serving. Some commercial brands offer frozen dinners with about 260 milligrams in each serving, or 11 percent of the daily sodium limit for a healthy adult and 17 percent of the 1,500-milligram limit for people on a sodium-restricted diet. Check that the sodium information on the label applies to one -- not two -- servings, and have no more than one frozen entree per day.
Recognizable Ingredients
A high quality, low-sodium frozen dinner will not come with an ingredient list of additives and preservatives with long, complicated names. Even if it's under the 600-milligram sodium limit, skip any frozen dinner in which you don't recognize more than half of the ingredients as a regular food. Stick with low-sodium entrees that have short ingredient lists featuring easily identifiable foods, such as vegetables, whole grains, or lean meats such as chicken, turkey, fish or shellfish.
Fats and Sugars
Just because a frozen dinner is lower in sodium than typical frozen entrees -- some top 1,600 milligrams per serving -- that doesn't mean it will be low in fat and saturated fat. The American Diabetes Association points out that some brands may supply as much as 40 grams of total fat and 16 grams of saturated fat, more saturated fat than an adult on a 2,000-calorie diet should consume in an entire day. Select a frozen dinner with 2 or fewer grams of saturated fat and no more than 500 calories. In addition, make sure there are no added sugars.
Fill Up on Fiber, Grains and Protein
A high-fiber, low-sodium frozen dinner that supplies a moderate amount of protein will help ensure that the meal gives you a healthy balance of nutrients along with sodium control. Look for a dinner supplying at least 5 grams of fiber from a combination of 1/2 to 1 cup whole grains, such as brown rice or whole-wheat pasta, and at least 1/2 cup of fruits, vegetables or both. For adequate protein, find entrees supplying 14 to 21 grams per serving. Cipullo suggests fish, which can provide heart-healthy omega-3 fatty acids along with the protein.