Energy drinks are usually used for one of two purposes: as a pick-me-up when you're feeling a little tired or lethargic and as a sports performance boost before a workout or competition. You might think you're being good by drinking energy drinks, but they could actually be the cause of your weight gain.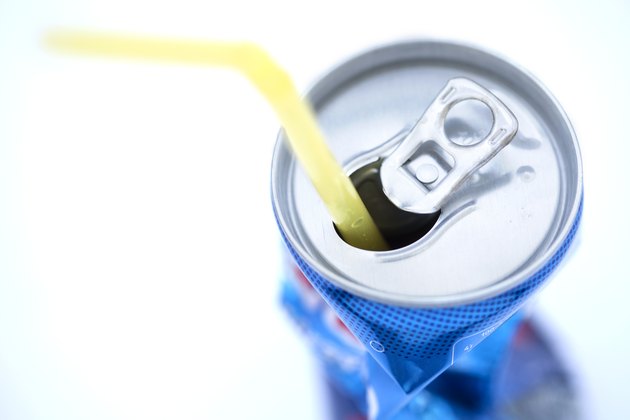 How People Gain Weight
Gaining weight boils down to calories in versus calories out. If you consume more calories than you burn off, you'll gain weight. If you're already eating the right number of calories to lose weight or maintain your current weight, energy drinks add unnecessary calories, which can push you into a caloric surplus, leading to weight gain.
Nutrition Facts on Energy Drinks
Energy drinks can contain a high number of calories, with the majority of these coming from sugar. A typical branded 24-ounce energy drink can have 420 calories, while even a smaller 16-ounce can from another popular brand has 220. The other issue with energy drinks is that they aren't satiating, so the calories won't even fill you up as they would if you ate them from food.
Practical Applications of Energy Drinks
In a sporting context, energy drinks can be useful. According to the Sports Dietitians of Australia, energy drinks can help athletes top up their glycogen levels before a game, which can aid performance. They can also boost energy during performance and assist with recovery afterward. The Academy of Nutrition and Dietetics notes, though, that you should only need a sports drink or energy drinks when working hard for longer than an hour.
Factoring in Energy Drinks
If you feel that energy drinks aid your performance and mental concentration but don't want to gain weight, factor their calories into your daily intake. Provided you don't exceed the number of calories you need to maintain your weight, you won't gain weight. Another option is to look for a low-calorie alternative. Moderation is key, though; the International Food Information Council Foundation advises consuming them alongside a healthful diet and making sure you keep an eye on your caffeine intake, as these drinks can be highly caffeinated.