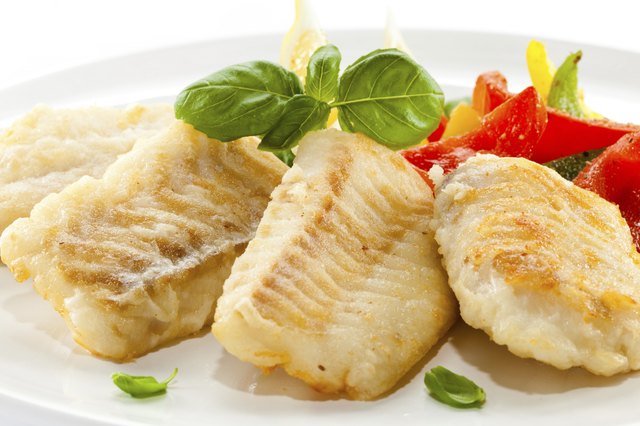 Fried cod fillets are crunchy on the outside and soft and moist on the inside, and they are incredibly tasty. Cod contains phosphorus, niacin and vitamin B12, and it is an excellent source of protein. A 100-g serving of cod supplies you with almost 18 g of protein. The number of calories in one serving is 82. Fried cod fillets do not take long to make, and this dish requires little work. When frying cod fillets, use high-quality olive oil, because it has a high smoke point.
Step 1
Remove the cod fillets from the freezer, if they are frozen, and place them in the refrigerator the night before you plan to fry them so they can thaw out. To thaw cod fillets in much less time, put the fillets in a plastic bag, and hold the bag under cold water.
Step 2
Blot the cod fillets with paper towels if they contain excess moisture after thawing. If they are fresh, there's no need to blot them.
Step 3
Put the flour on a flat plate, and shake the plate from side to side so the flour spreads out evenly.
Step 4
Sprinkle the salt and pepper on the flour.
Step 5
Break the eggs into the wide soup bowl, and beat the them with a fork, or pour the liquid egg product into the bowl.
Step 6
Pour the olive oil into the pan, and place the pan over a medium to high heat. Allow the oil to heat for about one minute.
Step 7
Lay a cod fillet on top of the flour so the bottom of the fish is coated with flour. Turn the cod over to coat the other side with flour.
Step 8
Dip the cod fillet into the beaten egg or liquid egg to coat it. Hold it over the dish for a moment to let the excess egg fall back into the bowl.
Step 9
Lay the cod fillet on top of the flour a second time, turning it over to coat both sides of the cod.
Step 10
Lay the cod fillet gently in the pan of hot oil, and let it fry for about five minutes on each side, or until the fillet is golden brown.
Step 11
Fry the remaining cod fillets following Steps 7 through 10.
Things You'll Need
1 lb. cod fillets

Paper towels

3/4 cup all-purpose flour

1/4 tsp. salt

1/4 tsp. black pepper

2 eggs, or ½ cup liquid egg product

Wide soup bowl

3/4 cup high-quality olive oil

Large frying pan
Tip
Serve fried cod fillets with tarter sauce and French fried potatoes.