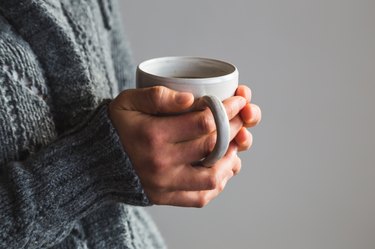 If you consistently reach for a sweater or turn up the thermostat when others around you feel comfortable, you might not be consuming enough calories. Feeling cold on a low-calorie diet is a result of your body not having sufficient energy to fuel metabolism and regulate its own temperature.
Glucose and Temperature Control
Your body's ability to regulate its own temperature is called thermoregulation. Even when faced with internal and external stimuli such as extremely hot or cold weather, strenuous exercise and starvation, your body tries to maintain a steady core temperature of about 98.6 degrees Fahrenheit. This internal temperature is critical to human survival and fluctuates slightly depending on time of day, stage in menstrual cycle and your age.
Calorie-Restricted Diets and Temperature
If your goal is to lose weight and stay warm, you don't have to drastically cut your calories to get the desired results. In a 2-year trial of human caloric restriction published in September 2015 in the Journals of Gerontology, researchers found that when study participants lowered their calorie intake by just 12 percent on average, they lost 10.4 percent sustained body weight.
For a 200-pound man who usually eats 2,500 calories a day, this would mean decreasing his calorie intake by 300 calories per day and losing 20.8 pounds over the course of two years.
What's more, the calorie restricted group and the noncalorie restricted group in the study differed little in core body temperature. If you are feeling cold when hungry and on a low-calorie diet, try upping your calorie intake to just 10 to 15 percent below your normal daily calorie intake. If you need help, you can calculate how many calories you are consuming by using a food tracker.
If you are following a calorie-restricted diet for weight loss or diabetes, be sure to consult a medical professional to ensure you get the protein, vitamins and minerals you need to avoid deficiency. A medical professional can also help you rule out conditions that cause low body temperature such as hypothyroidism, poor nutrition, trauma, severe arthritis, stroke, diabetes, Parkinson's disease and spinal cord injuries.
Anorexia nervosa, an eating disorder characterized by restricting calorie intake, also leads to weight loss, cold hands and feet and cold intolerance in general, according to the National Eating Disorders Association. This is a serious medical condition that starves the body of essential nutrients required to function properly. If you think you might have anorexia nervosa, speak to your health care provider who can help you find appropriate care.