Vinegar and citric acid both have a sour flavor, and they're both common ingredients in foods. They're not, however, the same molecule, nor is one made of the other. While your cells make citric acid as part of normal metabolism, they don't make vinegar.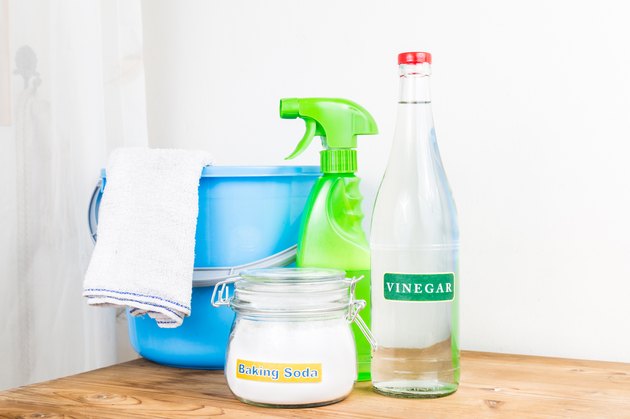 Vinegar
Vinegar is technically mostly water, but the molecule that's commonly called the "vinegar molecule" is acetic acid. Pure acetic acid is very acidic -- far too acidic to consume. Mixed with a large proportion of water, however -- as it is to make vinegar -- acetic acid produces a mildly acidic, sour solution that serves as a common flavoring agent in many foods. According to the Vinegar Institute, most vinegars contain between 4 and 7 percent acetic acid.
Vinegar in Food
Vinegar doesn't tend to occur in foods naturally, though it's common in fruits and fruit juices that have begun to ferment. During the fermentation process, yeast use the sugar in the fruit or juice for energy, producing ethanol -- drinking alcohol -- as a waste product. Over time, the alcohol reacts with air, turning into acetic acid. According to the U.S. Alcohol, Tobacco Tax and Trade Bureau, acetic acid contains 3.5 calories per gram, but you consume so little acetic acid in vinegar that you never take in substantial calories from it.
Citric Acid
Like acetic acid, citric acid has a sour flavor, and is also safe for human consumption. It's slightly less caloric than acetic acid, with 2.5 calories per gram. As with acetic acid, however, you rarely ingest enough citric acid to make a difference in your overall diet. Furthermore, most of the citric acid that you consume, you simply eliminate from the body through the urine, notes Dr. A. Pajor in a 1999 paper in the journal "Seminars in Nephrology."
Production in the Body
One of the major differences between vinegar and citric acid is that while your cells make citric acid on a regular basis, you don't make vinegar, except when you're metabolizing alcohol that you've drank. Citric acid comes from the process of breaking down nutrient molecules for energy. First your cells make citric acid, then they break it down to generate the metabolic waste products carbon dioxide and water. You don't use the citric acid that you get from food in the same way you do the citric acid your own cells make. Your body makes a small amount of fat from the citric acid in food.