Boxing is an intense sport that creates substantial aerobic exercise and stress on the body. With each punch or other movement in boxing, you place demand on your muscles, especially in your arms and hands. As a result, you may notice that your hands are shaking following a match or a training session. This shaking can be attributed to several factors.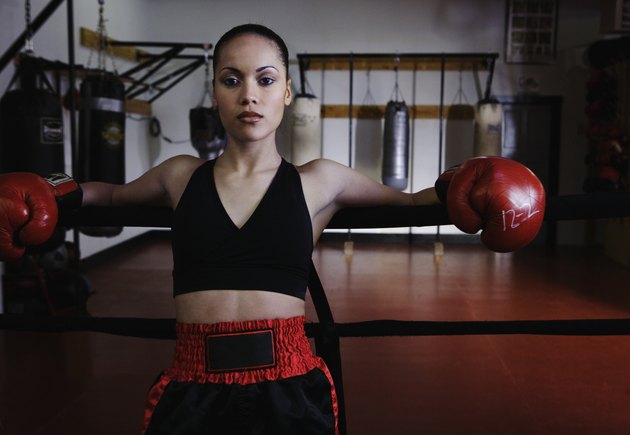 Motor Units
If you're hands are shaking after a boxing it most likely has to do with the interaction of motor units in your body. Motor units consist of the muscle cells that are being contracted, and the motor nerve connected to the spinal cord. Signals, or electrical pulses, from the brain travel down the spinal cord and through the motor nerve to initiate the contraction and lengthening that allows your muscle to move. Normally this process is done in such a way that movement appears smooth and even. But these signals can be interrupted, causing the muscle movements to seem more like shaking as after extreme exercises like boxing.
Strenuous Exercise
When you take part in strenuous exercise, you cause fatigue to the motor units when the body can no longer produce the chemicals needed to carry the electrical impulses required for movement. Fatigue can occur both at the spinal cord level, as well as at the connection between the muscle cell and the motor nerve. When a motor unit reaches the most activity it can handle, and fatigue sets in, the unit drops out. As motor units drop out, the smooth movement of the muscle becomes replaced with more jerky movements resembling shaking. This movement can continue well after the exercise has stopped. Once you stop exercise and your body has a chance to recover, the motor units return to normal, along with smooth muscle movement.
Adrenaline
Adrenaline may also be a factor in hands shaking after boxing. Boxing can trigger what's often referred to as the "fight or flight" response in your body. In this response, the body prepares your body either to face injury or run away from danger. Part of this response is the release of adrenaline from your adrenal glands -- and the effects of adrenaline can be seen in the muscles as tremors.
Less Possible Reasons
If hands continue shaking well after the event or practice session has completed, there may be other underlying reasons for your hands shaking. While it's important to see your doctor to get a full evaluation and diagnosis, possible reasons for hand shaking can vary from simple essential tremors to the beginning of Parkinson's disease in rare cases. Only your doctor can give you a full idea of what may be causing your hands to shake and how to treat it.